Terex MP is at CONEXPO at Booth S5435.
Terex Materials Processing (MP), a global manufacturer of materials processing and lifting machinery, presents its diverse portfolio representing the aggregates, environmental, concrete, material handling and lifting industries at CONEXPO-CON/AGG 2023 in Las Vegas. In total, there are 12 participating Terex MP brands, including new businesses to the portfolio, MDS and ProAll.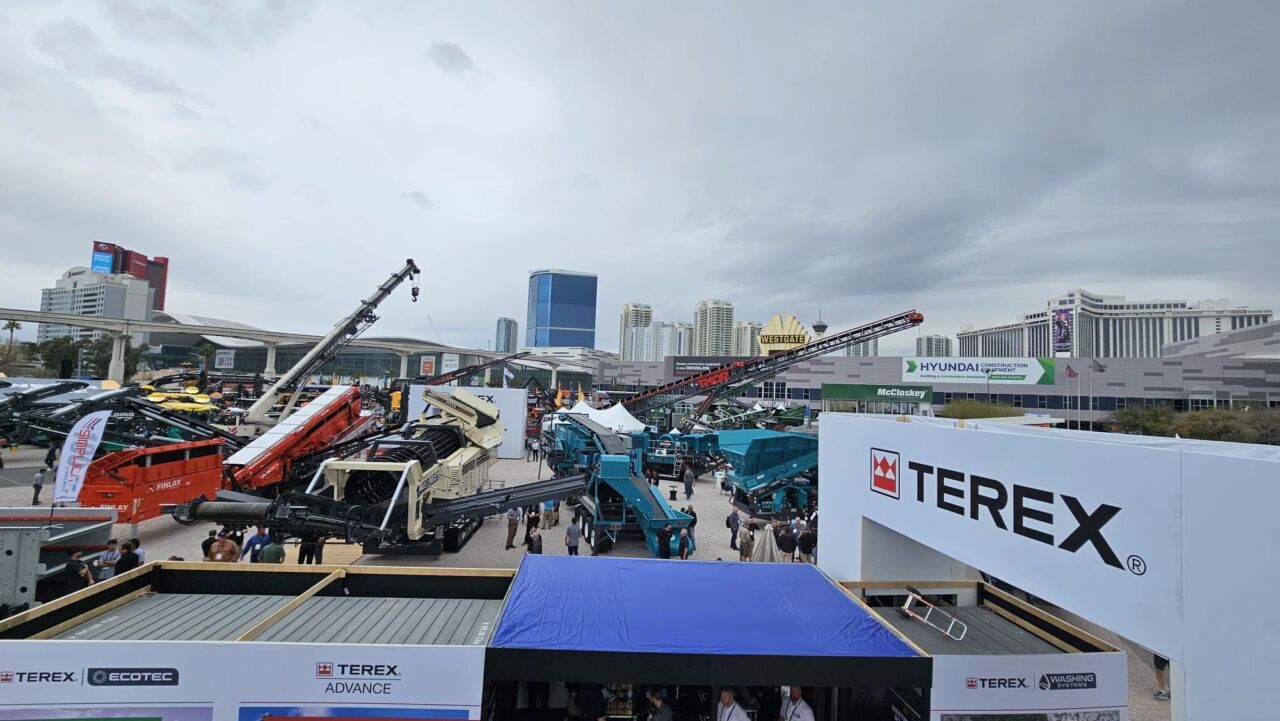 "Terex MP has transformed in recent years to solidify our position and respond to robust demand trends in each of our end markets. Visitors to our booth are seeing our broadened portfolio of equipment and investment in new technologies and innovative solutions that will help our customers operate their equipment safely, while achieving profitability, sustainability and superior returns."
said Kieran Hegarty, President, Terex Materials Processing.
Growth since CONEXPO 2020, Broadened Portfolio
Terex MP has been on a growth journey since its last appearance at CONEXPO in 2020. In 2021, the segment purchased a new facility in China to manufacture Powerscreen equipment for the domestic China market. This was followed by the acquisition of MDS, manufacturer of heavy duty and recycling trommels, apron feeders and conveyor systems, to expand its offering in the crushing and screening and environmental industries, with products that complement the existing portfolio.
In 2022, Terex MP purchased Steelweld Fabrications, a manufacturer of heavy fabrications, as part of a long-term fabrications strategy to meet global demand for its crushing and screening products. Later last year, Canadian company ProAll, a specialist producer of mobile volumetric concrete mixers, also joined the Terex MP portfolio, in a move to expand its overall presence in the concrete mixer space.
The latest acquisition was the assets of ZenRobotics, a company that manufactures robots that pick, sort, and recycle waste material. This is part of a larger strategy in Terex MP to strengthen its offering in the environmental industries and make the circular economy a reality by turning global waste into clean raw materials.
Each of the acquisitions now operates as a stand-alone business alongside other brands within the Terex MP segment, while also benefiting from Terex MP's broader market presence, as well as efficiencies enabled by its global scale and investments in areas such as sustainability, digital solutions, and factories of the future.
Supporting the Circular Economy with Sustainable Equipment
Terex MP is making strides towards sustainability and making a positive impact on the environment through product innovation and environmental stewardship. Sixty per cent of Terex MP's product offering now have electric options, which not only supports its aggressive Environmental Social Governance (ESG) program on a global basis, but helps customers achieve their own ESG objectives.
Besides electrification, Terex MP is focused on operating its businesses in an environmentally friendly way and in growing its environmental processing equipment offering—one of the segment's fastest-growing areas, in support of the circular economy.
"The demands of our customers are constantly evolving and meeting their needs with a sustainable approach has been a core value of Terex. Our latest product innovations support the circular economy, reduce GHG emissions and offer alternative energy sources with electric and hybrid options. This supports our customers in reducing carbon footprint globally. In Operations, we have committed to 15% reduction in GHG emissions and 15% reduction in global energy intensity by 2024."
explained Hegarty.
Digital Solutions
Also exhibiting at CONEXPO is Terex MP's digital solution offering, a culmination of tools that bring its equipment into the digital age and the efficiency and productivity gains it can bring for customers. Connected Dealer Inventory, e-Commerce, Dealer and Customer Portals, Fleet Management Systems, Visual Parts Search and Remote Service Offerings are just some of the advancements in this area.
Factories of the Future
Bringing its facilities into the digital age is also a key focus for Terex MP, as part of the operational transformation of its manufacturing capabilities. Robotic welding and automation, material management, job tracking, digitization of factory floor workflows and supply chain information are all priority areas, with a dedicated team in place to bring factories of the future into reality.
"At the end of the day, customers are looking to get a good return on their investment. Digitalization is making the information flow faster and more efficiently. By creating a digital thread, we are connecting our products, factories, stores and jobsites for a more efficient interaction, ultimately leading to better-informed decisions, increased uptime, return on investment and an overall enhanced customer experience."
said Hegarty.
The post Terex MP Presents Diverse Portfolio at CONEXPO appeared first on USA HeavyQuip Journal.