The global drone construction monitoring market is estimated at
 

US $ 318.2 million

 

in 2023 and is expected to expand at a healthy

 

13.6% CAGR during the forecast years of 2023-2033. Growing interest in infrastructure development is one of the key factors driving the growth of the market.

Construction drones are used in monitoring the construction sector to inspect and maintain sidewalks, highways, bridges, buildings, monitor for damage and cracks, maintain facades, and map historic buildings. It is also widely used for 3D modelling for building reconstruction and photogrammetry applications such as volume measurement.
In addition, construction drones can help with various improvements such as improve reporting accuracy, improve security requirements, reduce costs, streamline workflows, and more. Apart from that, construction drones are remotely controlled so they can conduct surveys in high casualty risk zones. Therefore, it is projected that use of drone construction monitoring will create a positive outlook for the market in the coming years.
Key Takeaways from Market Study
The global drone construction monitoring market is projected to reach US $1,149.0 million by 2033.
The market witnessed 8.2% CAGR between 2018 and 2022.
Commercial drone construction monitoring in end use segment dominates the market with 54.2% market share in 2023.
Under application, surveying land sector dominates the market and are valued at US $149.9 million in 2023.
Based on region, demand for drone construction monitoring expected to increase at CAGR of 14.5% in East Asia during the forecast period.
"Improvement in the Surveying Land of Construction Sites Drives the Market Growth"
says a Fact.MR analyst.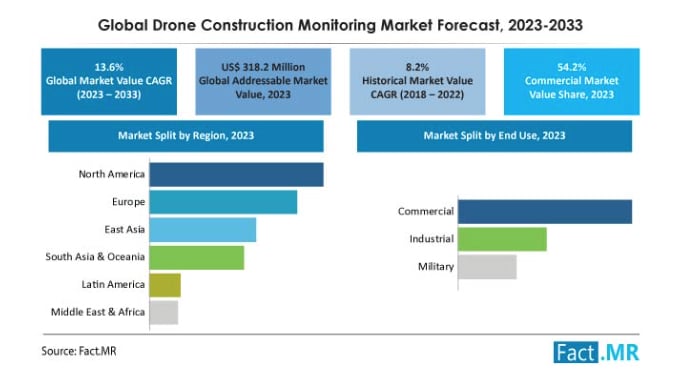 Market Development
Many countries have issued rules and regulations for drone operations to ensure people's safety and privacy. For example, in July 2020, the European Aviation Safety Agency (EASA) published European regulations to ensure the safe operation of drones in commercial and non-commercial applications.
Additionally, in September 2018, the Directorate General of Civil Aviation (DGCA) approved the use of drones for inspection, photography and delivery operations. Therefore, all these factors are expected to elevate the ethical use of drones' construction monitoring and accelerate the growth of the global market during the forecast period.