Kalmar, part of Cargotec, has officially handed over its first fully electric reachstacker to long-term partner Cabooter Group following a six-month testing period. The reachstacker will continue operations at Cabooter Group's Greenport Venlo intermodal terminal in the south east of the Netherlands.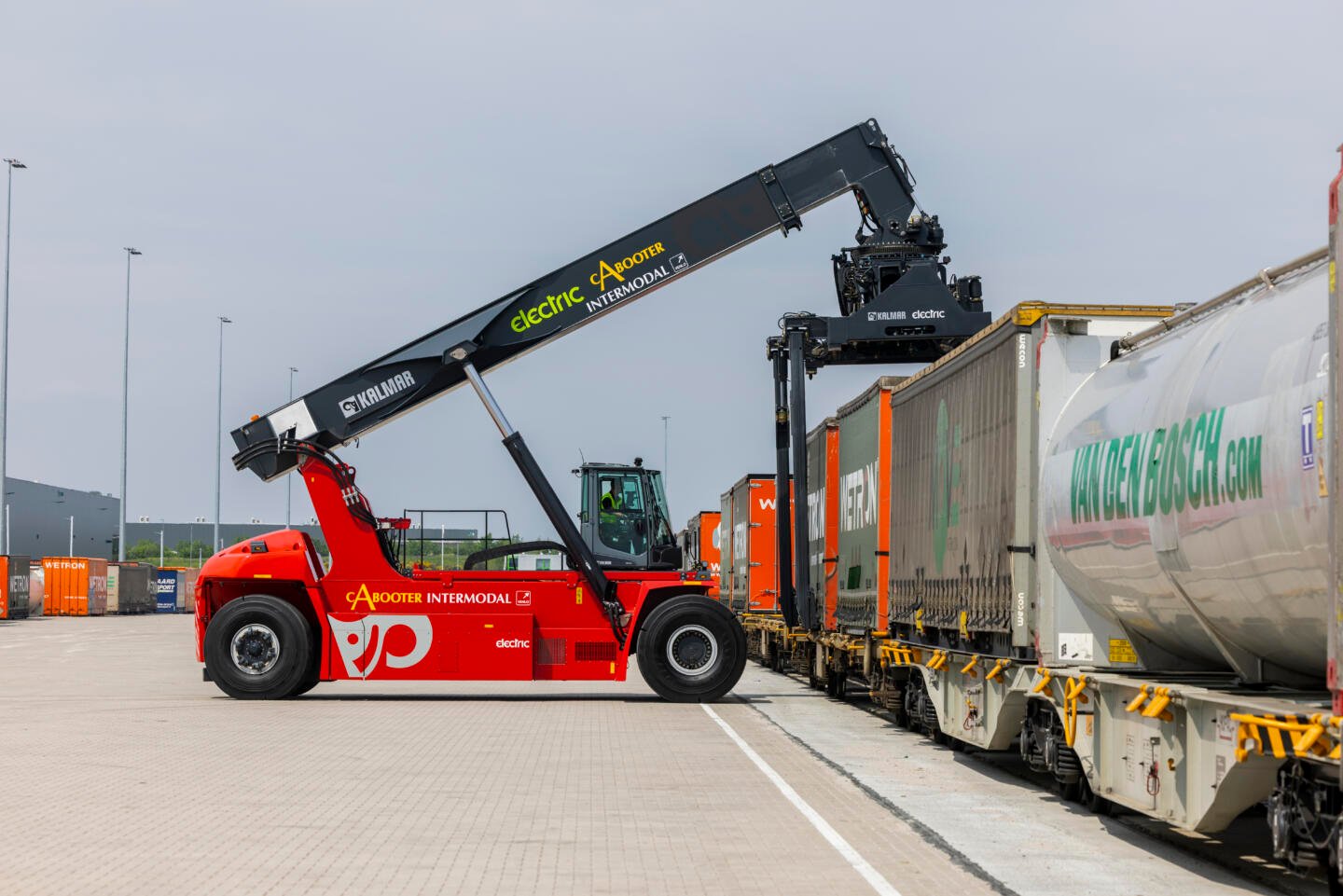 Since its founding in 1995, Cabooter Group has grown to become a global logistics provider and one of the leading logistics hub operators in Europe. The company is already benefiting from lower fuel costs and reduced emissions thanks to five Kalmar Eco reachstackers deployed at Venlo and at the company's Kaldenkirchen terminal in Germany. In 2019, Cabooter Group signed an agreement to become the pilot customer for the Kalmar electric reachstacker during the product's initial development phase.
As part of the handover ceremony, Cabooter Group was presented with the Kalmar Eco Hero Award in recognition of its commitment to adopting sustainable electrically powered equipment. As an Eco Hero, Cabooter is recognised as an ambassador for sustainability, leading and inspiring other customers to follow in their footsteps by sharing their experiences of operating electrically powered machines.
The Kalmar electric reachstacker, which offers lifting capacities of up to 45 tonnes, improves the eco-efficiency of cargo-handling operations while allowing customers to maintain the highest levels of productivity and safety. The reachstacker is available with a range of modular battery options and charging solutions.
"With our focus firmly on improving the sustainability of our operations, reducing the noise and airborne emissions that our equipment generates is a must. The goal we set when we first signed the agreement to collaborate with Kalmar on this eco-efficient solution in 2019 has not changed: We want to become the industry leader in airborne emission and noise reduction in partnership with Kalmar."
said Hans Cabooter, President and CEO of Cabooter Group.
"Cabooter Group has remained firmly focused on transforming its terminal operations with the goal of reducing airborne emissions and noise. The company is leading by example with its sustainability transformation, and we are honoured that they have chosen Kalmar as the equipment partner for this transformation."
affirmed Maurice Butin Bik, Sales Manager, Benelux, Kalmar.