Despite their small size, mini excavators can play an important role on any jobsite. Their small working footprint enables better access to restricted spaces such as residential gardens and inside buildings, while they can also provide key support to larger construction projects. With this in mind, Kobelco continually reviews and improves its mini excavator range in order to meet the increasing demands of their operators. The new Kobelco SK34SR-7 and SK39SR-7 replace the previous SK30SR-6E and SK35SR-6E and offer increased engine performance, improved operability, an updated cabin interior and easier maintenance.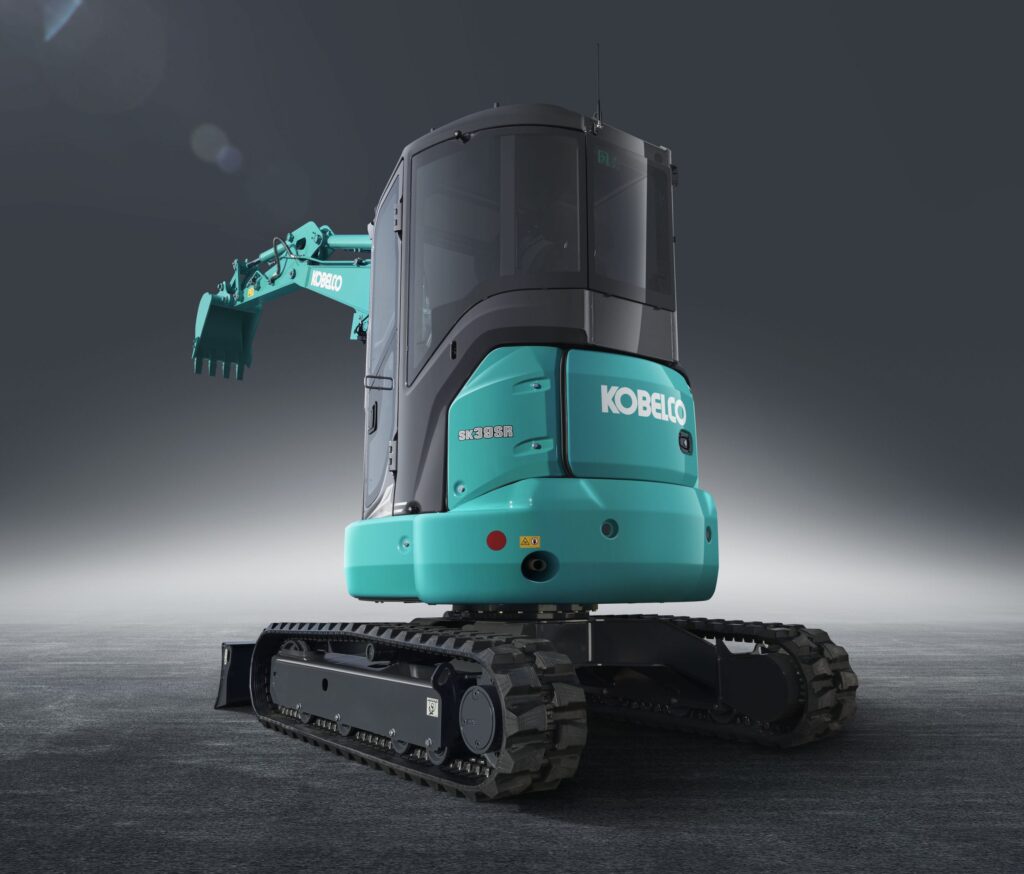 The Kobelco SK34SR-7 and SK39SR-7 deliver superior performance thanks to their increased engine output (from 18 to 19 kW). Their larger bucket cylinders (from 65 to 70mm) also result in a 15% increase in bucket digging force (from 27.8 to 32kN). In addition, the boom cylinder bore has been increased from 80 to 85mm for improved lifting capacity (SK39SR-7), while increased travel performance and an upgraded hydraulic system deliver faster combined operation.
To increase efficiency, the machines' optional floating dozer blade enables clearing of the ground surface without having to make adjustments to accommodate changes in terrain. The durable angle dozer (optional) provides 25 degrees of left/right movement for clearing, grading and back-filling. The machines' quick hitch piping has also been extended by 200mm.
Operator comfort and safety was key to the development of the SK34SR-7 and SK39SR-7. The new machines follow Kobelco's Performance x Design concept, which includes a newly designed cabin interior, to make long operating hours more comfortable.
DAB+ radio with FM/AM and AUX, USB, Bluetooth and hands-free telephone functionality come as standard, while the wider wrist rests ensure fatigue-free operation. The mechanical suspension and reclining seat coupled with the powerful air conditioning have also been designed to make the operator feel like they are controlling a much larger machine.
The standard 3.5-inch colour display provides important information including operating history, maintenance cycle, and fuel and water temperature gauges. Hydraulic Flow Adjustment (HFA) comes as standard in all proportional hand control models, and the hydraulic oil-flow to the attachments can be adjusted via the same colour display.
To improve visibility on the jobsite, particularly when operating during the darker winter months, the new SK34SR-7 and SK39SR-7 have been equipped with two bright LED work lights. Additional working lights can also be installed to the back of the cabin, if required. To reduce downtime for maintenance, the travel levers are now removable, which improves accessibility to the main control valve.
Commenting on the introduction of the new Kobelco SK34SR-7 and SK39SR-7, Kobelco Product Manager, Wesley Elverding, said:
 "We're always listening to our customers to understand what they need from their mini excavators and how they perform on jobsites. As well as offering upgraded performance, increased bucket digging force and improved lifting capabilities, the introduction of the new SK34SR-7 and SK39SR-7 demonstrates how we are developing our mini excavator technology and machine concepts to better suit the needs of our operators as well as more demanding jobsite conditions."