Change is a powerful force, nowhere is this more evident than in the growth and development of LiuGong UK who will be celebrating their 10th Anniversary at Plantworx 2023. In ten short years the UK business has changed almost beyond recognition. From a small office and workshop in Portsmouth servicing only twenty-five customers, the business now has over four hundred customers, serviced from five sites across the UK including a dedicated R&D facility in Manchester and significant growth investments in the pipeline.
Celebrating 10 years of growth
Reflecting on the UK company's 10-year anniversary, Managing Director Steven Ford, sees change as the constant force behind the business and the key to its success. He said:
"When you set out to approach business with a "can do" attitude, change becomes your constant companion. In the last 10 years we have changed a lot. Our business and support infrastructure has changed, our product range, particularly with our new F-Series excavators has been revolutionised and now, we are showcasing our first electric machines. The one thing that has remained constant in all this change has been our approach to our customers. We listen, we understand, and we always go the extra mile and that will never change."
The evidence of this customer centric approach can be found in the strong customer loyalty the brand enjoys in the UK. According to Ford:
"We have built a formidable reputation for the LiuGong brand and a very loyal customer base with many of the same customers who joined us on day one, still growing their business with ours. I'm proud of the way in which we have changed and grown with our customers; this is what partnership is all about".
Change to zero emissions
China leads the world in Battery Electric Vehicle technology and LiuGong are a leader in China. LiuGong were one of the first Chinese construction equipment manufacturers to identify the potential for battery electric vehicles in the construction industry and have invested over 100 million RMB in the last 8 years alone on R&D, product development and testing.  LiuGong's 856HE MAX electric loader is already the most popular electric wheel loader in China with over 2,000 machines currently working in one of the world's toughest markets.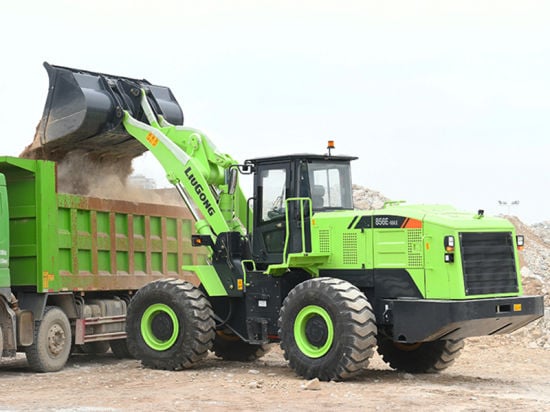 LiuGong are leading the change
For the first time LiuGong will be showcasing their electric capability in the UK in the shape of the new 9027F-E excavator and 856H-E wheel loader.
According to European Product Manager, Harry Mellor,
"We are extremely excited to be showcasing not only our electric machines, but our knowledge and capability in this important area. The electric machine is just the start and customers are looking to us for advice and support on charging infrastructure, health and safety and training. Our world leading expertise in BEV's will help our customers to embrace the change to electric in a holistic way".
Changing perceptions with an impressive machine line-up
Alongside its new BEVs, LiuGong's machine line-up at Plantworx 2023 represents a perfect match for UK customers with its blend of power, performance and intelligence. LiuGong's machines are designed in Europe and share the same Red Dot Award winning design DNA, which puts the operator right at the heart of the machine. The line-up will feature the New F-Series excavators, Wheel loaders, Skid steers and Aerial Work Platforms and firmly positions LiuGong as a brand you can trust.
An intelligent future
Change is constant and LiuGong are leading that change with BEV's, telematics and 5G autonomous technology. LiuGong Europe Chairman Howard Dale said:
"Demonstrating our capability in BEV's is just the start. As a company, we are committed to using intelligent technology to create a cleaner, safer and more sustainable future and our intelligent machines will play a big part in achieving this aim."