For the structural waterproofing, the Böcker truck crane AK 42 transported bitumen welding sheets onto a 5-storey senior citizens' residential complex in Duisburg-Rheinhausen. On behalf of the roofing company Hubert Clees & Sohn, the crane lifted approximately 900 kg of material per pallet onto the roof and the surrounding terrace on the fourth floor of the new building.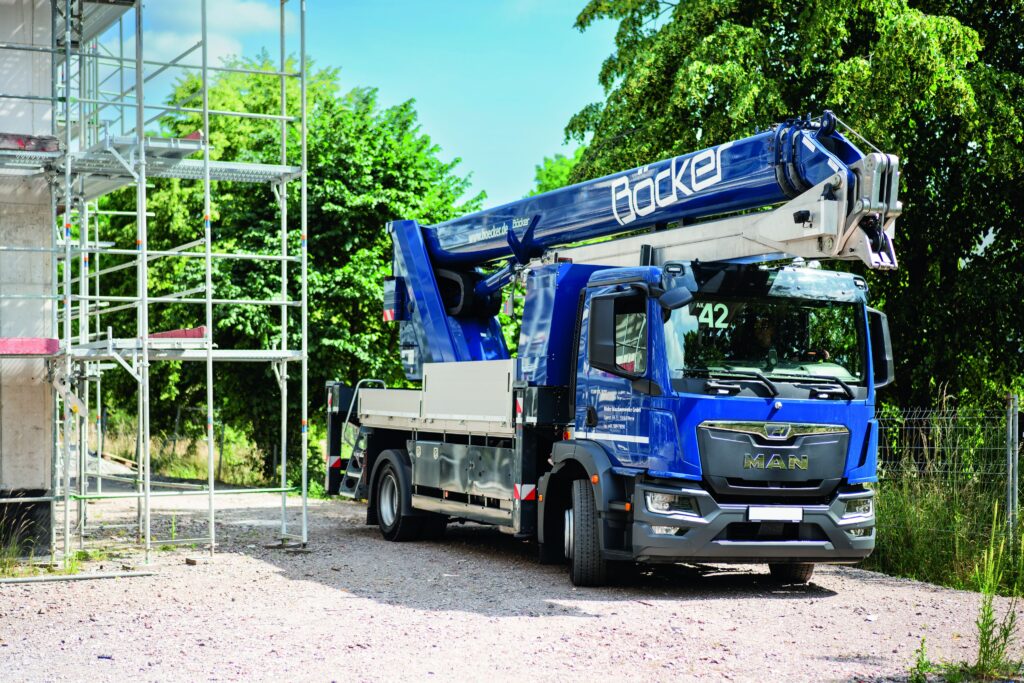 The Böcker truck crane AK 42 easily reached the unloading points at a distance of 15 m and a height of 20 m. With its maximum lifting capacity of 6 t and extension lengths of up to 42 m, the crane still had significant power reserves to lift the attached load considerably higher and further out. For example, it can lift a weight of 1.5 t to a height of 24 m and in a distance up to 18 m.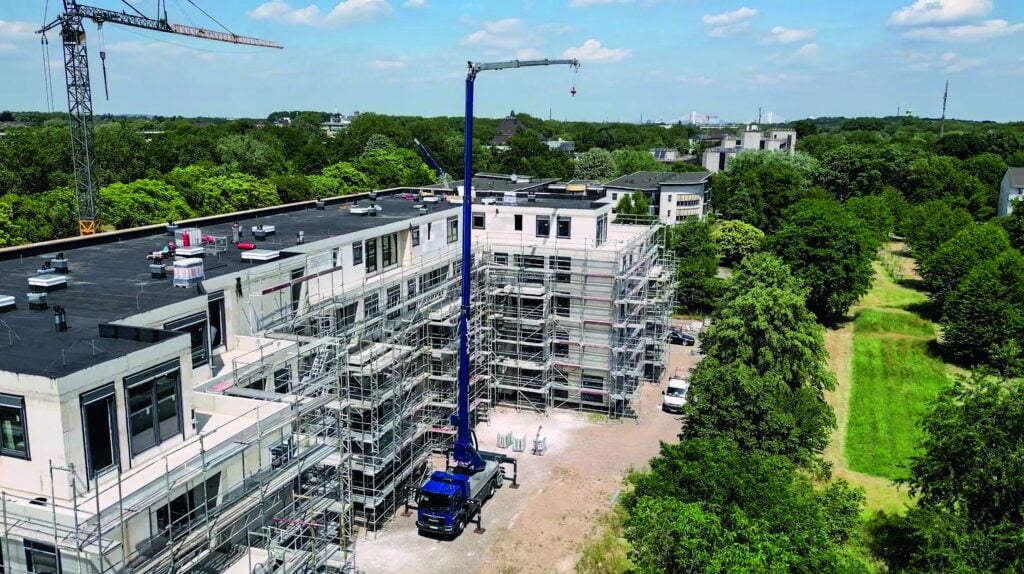 Thanks to its powerful hydraulic system, the AK 42 performs all crane functions at a very high speed. Several functions can be controlled simultaneously at a constantly fast pace. Thanks to this outstanding working speed, all bitumen sheets reached their processing location quickly. The individual lifting operations were not only very fast, but also highly precise. The comprehensive equipment with the latest generation of control technology facilitated the work. It offers, for example, a reach preview during outrigger positioning when erecting the crane, transfer control, automatic rope tracking, switching between rapid and creep speed, rotation and erection angle limitation and go-home function.
For the construction project in Duisburg, the PGA 1800 A pallet fork simplified the safe pick-up and transport of the welding sheets. The crane's low swing-through radius and the completely upright mast position at 90 degrees to the vehicle also enabled space-saving erection and slewing close to the facade. The crane also masters the narrow access to the construction site with a vehicle width of only 2.55 m.
The new tower crane function of the AK 42 was used to telescope the load onto the roof and terrace. The aluminum jib can be hydraulically extended over 14 m in a horizontal position, while the crane mast is completely vertical. This mast geometry is made possible by the newly developed telescopic mast system and a strong boom joint. Another innovation of the AK 42 is also the 180 degree position of the boom. With the boom joint fully extended, loads can be attached close to the crane or picked up directly from the loading area of the crane.
For low-emission and low-noise operation in densely populated areas, the AK 42 is optionally available as a hybrid crane with an additional electric motor.  With an output of 30 kW, the 400 V drive is as powerful as usual. Thanks to the adjustable fuse protection, the crane always uses the maximum available amperage on site.