XCMG, has climbed to the fourth position in the Yellow Table among the 50 listed companies. Chinese manufacturing continues to lead the construction machinery industry.

On May 18, UK KHL Group, the world's most authoritative information provider for construction machinery, released the 2020 top 50 list of global construction machinery manufacturers (2020 Yellow Table).
The 2020 list contains the companies that represent a total turnover of more than $ 200 billion in 2019.
With a turnover of $11.162 billion, XCMG has risen to 4th place in the ranking of the world's top 50 construction equipment manufacturers, once again leading Chinese manufacturing companies on the list.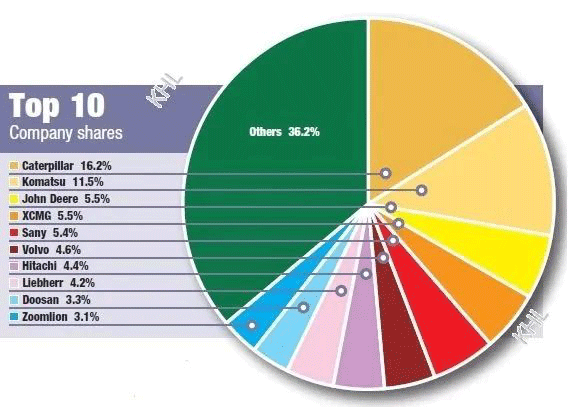 At present, XCMG has four overseas research and development centers, 15 manufacturing bases, KD factories or joint ventures, 70 molecular companies and offices, and more than 300 distributors in the world. Its products have been exported to 183 countries and regions, being the largest exporter in Chinese construction machinery industry for 31 years.
The Belt and Road Initiative has built an important platform for the globalization of Chinese construction machinery enterprises. The Chinese construction machinery enterprises represented by XCMG have been put to the test, continuously enhancing their global competitiveness and strengthening their influences in product and technology research and development.
XCMG products have also achieved brilliant results in international construction projects. They have participated in a series of major projects all over the world including the construction of the FIFA World Cup Qatar 2022 stadium, the 480-kilometer Mombasa Nairobi Railway and Africa's largest Dangote refinery project.
XCMG has always invested full efforts into high-end product innovation and market internationalization, as example the construction of "the world's first crane" ——XCMG 4000t crawler crane XGC88000
and the "China's first excavator"——XCMG 700t hydraulic excavator.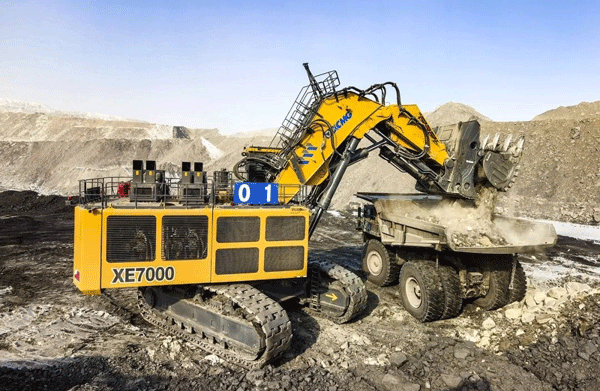 And still, XCMG continuously strengthens its management transformation, breaks through high-end technology, and takes root in the global layout. From Wanhua, Yantai to Gulei, Fujian, and from Saudi Arabia to Oman, XCMG 4000-ton crawler crane, which was called "the No.1 crane in the world", has successfully completed many tasks. The 700-ton mining excavator, which was called "the No.1 excavator in China" is working in the coal mine in Inner Mongolia.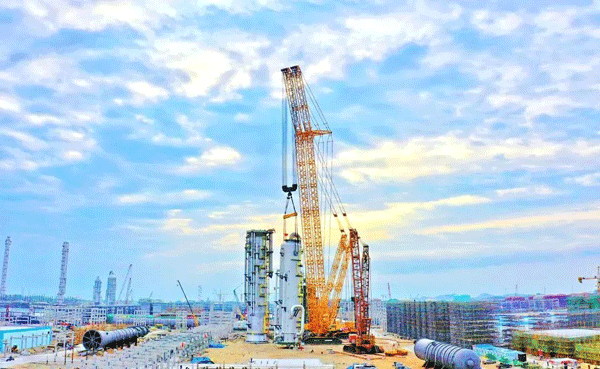 The core of competition in the construction machinery industry is products and technology. When inspecting XCMG, President Xi Jinping clearly said that
"we must have the determination to rely on Independent Development and Grasp Innovation Drive".
Good products are the pass for China in the world: G1 all-terrain cranes, which President Xi had tried for test drive, have been launched to the market for two years, with sales accounting for more than 60% and demand exceeding supply. Complete sets of mining machinery are favored by global mining giants; "Steel Mantis" mountain excavators won orders from troops that worth of over 100 million yuan; Self-designed new electric control boxes, high-end hydraulic valves and intelligent control systems substitutes imported equipment.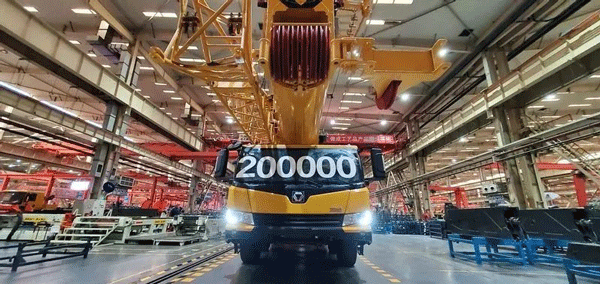 Even and expecially because of the pandemic crisis, the XCMG's state of mind has always remained the same:
to pass From "Quality, Efficiency, Scale and Sustainability" to "High Quality, High Efficiency, High Return and Sustainability",
as Wang Min says. This change expresses Wang Min's determination to conduct self-transformation and also demonstrates the idea of high-quality and connotative development of construction machinery and equipment manufacturing industry in China.
This might explain why ten years ago, the overseas income accounts for only 2%-5% of the overall income of China's construction machinery manufacturers, while today, the overseas income of leading Chinese construction machinery manufacturers led by XCMG has reached 30% or more.  This fast change shows China's improvement in products and technology. It also demonstrates the transformation of "Made in China" to "Made by China".
Source: XCMG