Bauer can this year look back on 25 successful years. Bauer has been active in the Philippines since 1995 and is involved in a wide range of projects in the Southeast Asian island nation
BAUER Spezialtiefbau GmbH has always relied on local subsidiaries to make its specialist foundation engineering expertise and know-how available around the world – and this includes the Philippines. In recent years BAUER Foundations Philippines has acquired, executed and successfully completed many other orders in the Philippines.
The projects included infrastructure, secure energy supply, living space and entertainment.
Infrastructure expansion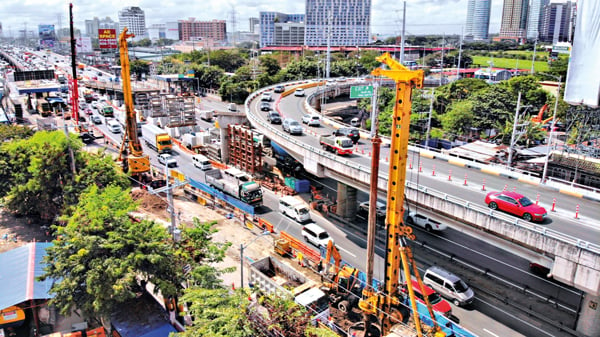 In order to relieve traffic congestion in the metropolitan area around the Philippine capital Manila a new highway called Metro Manila Skyway is being constructed. BAUER Foundations Philippines, has been involved in a number of construction phases and, since August 2019, has been working on expansion of the highway between the cities of Sucat and Alabang in southern Metro Manila, to the city of Muntinlupa. The first phase of the expansion project involve the upgrade of all toll roads in the southern Manila metropolitan area to relieve the major roads and permanently reduce traffic jams. The road, which is constructed on pillars above existing roads, is currently being expanded from two to six lanes. As part of the order, Bauer is installing 188 bored piles with diameters of 2,800 mm and a maximum depth of 30 m, without interrupting traffic on a busy road. In addition, 226 ductile piles with a length of 16 m will be installed using the PGF system (Pressurized Grouted Full Displacement System).
Sustainable energy generation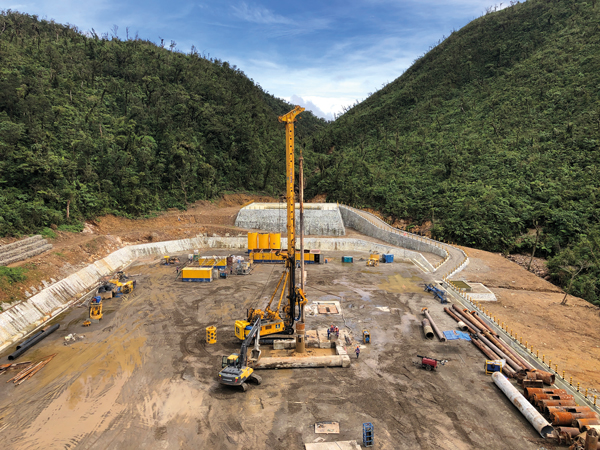 Energy Development Corp. (EDC) is the leading provider of energy from geothermal heat in the Philippines, focused on renewable, sustainable and environmentally-friendly energy from geothermal sources. As part of a large investment program by EDC, the BAUER Foundations Philippines has once again been commissioned to carry out drilling for a geothermal power plant on the island of Leyte. Over a period of four months, a BAUER BG 40 was used to carry out multiple drill holes with a diameter of 1,200 mm. The slurry stabilized drilling hole was executed up to a depth of 150 m, despite difficult soil conditions, and was successfully completed in March of this year.
Luxury area with a sea view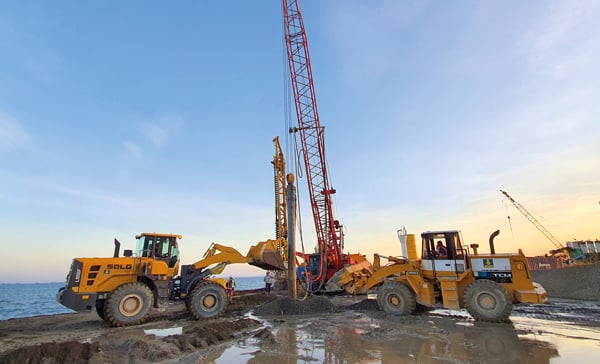 Located directly on Manila Bay, the new 30-storey building complex Seaview City is being constructed on an area of around 200,000 m². The site will offer new commercial spaces and luxurious residential units as well as an on-site entertainment and casino area. For preparation of the building foundations, 483 bored piles were installed over a total of 14 weeks. Three Bauer drilling rigs of the types BG 40, BG 15 and BG 14 were used for the works which began in November 2019 and were completed in March 2020.
Hotel, business and leisure complex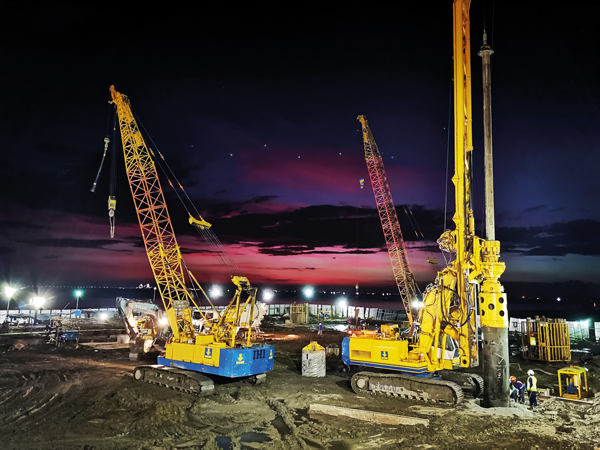 Since December 2019 Bauer has also been involved in a commercial project. It is a hotel complex, Cebu Integrated Resort, on Kawit Island, an offshore island off Cebu City.In total 17,864 m² of Mixed-in-Place wall (MIP) were constructed up to a depth of 11 m as well as 1,267 stone columns with a diameter of 1,100 mm and a length of 12 m. The complex is composed with bars, restaurants, a shopping and convention center, a casino, a theme park and a theater, there are also a total of three hotels planned for the site.
Source: Bauer