On regular days, some 400 planes with a takeoff weight of up to 400 tons thunder over the runway at Stuttgart Airport. After 25 years of constant stress, the concrete had started to crumble across the board. The airport managers took advantage of the corona-related downturn to replace 1200 meters of runway. Lissmac floor saws cut the 40 cm thick, steel-reinforced concrete track into pieces suitable for excavation in record time.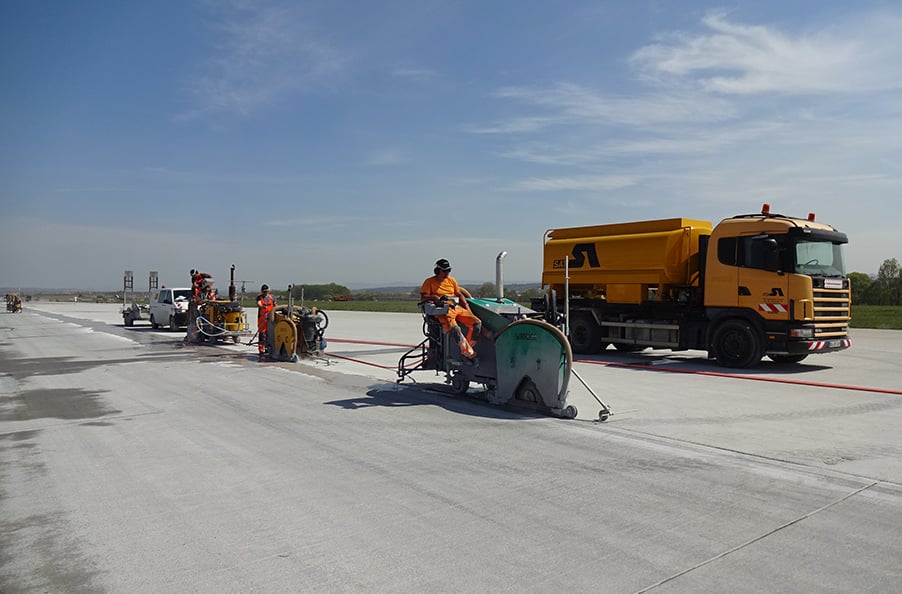 "We can make it"
From the very first days of announcing the project, launched on 6 April 2020 with completion scheduled for 18 June 2020, Peter Harig, head of the Karlsruhe branch at SAT Spezialbau GmbH, was confident that his team would succeed.
On sites as large as this, Lissmac machines alone have carried out work on 70,000 m² of concrete track, there is no time for troubleshooting or repairs. Everything has to be perfect and for this requires machines of high performance and quality.
"In Stuttgart, the floor saws run 24 hours a day. The technology has to work one hundred percent. Breakdowns simply cannot occur. Lissmac stands for reliability and performance – and has been our brand of choice for years,"
says Harig. The process requires a certain meticulousness: only when the concrete slabs have been cut can excavators work with hydraulic hammers, buckets and shovels and prepare a new bed for the new surface. So if just one does not keep to the schedule, the whole project falls through. SAT Spezialbau once again strengthened its arsenal of machinery in order to start this high-pressure project and be well-equipped on all fronts. The newly acquired Lissmac UNICUT UC 520 floor cutter with side cutter and depth cutting device, together with another Lissmac UC 520 and a Lissmac MULTICUT MC 900, formed the rapid response force for Stuttgart.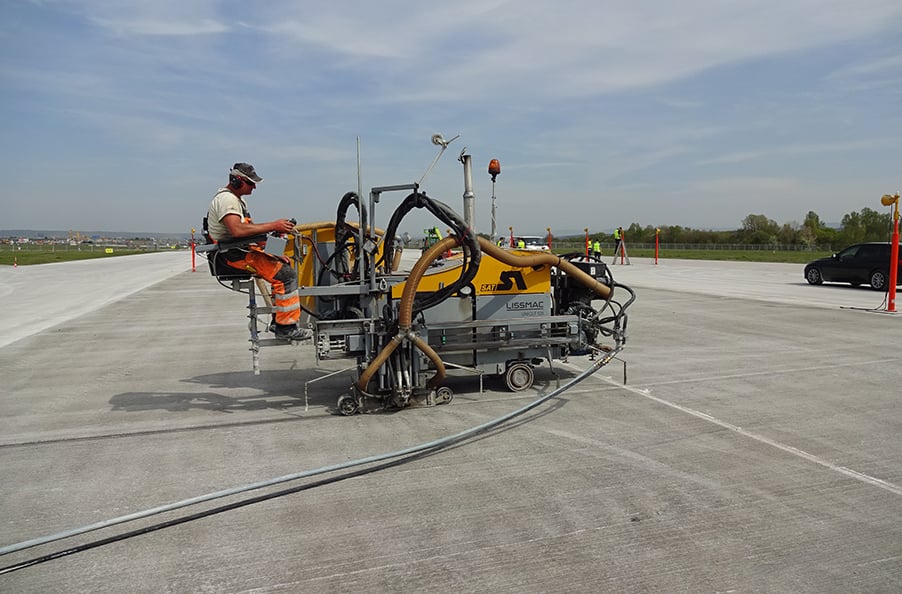 The work involved the incredible 20,000 m of deliberately placed separation cuts, which the specialists at SAT Spezialbau dug into the disused runway at Stuttgart Airport in just four weeks. The cuts through concrete and iron were up to 40 cm deep. This formed the essential preparatory work to transform 1,200 m of runway into 28,000 m³ of rubble – over 1,000 trucks full to the brim. The Lissmac UC 520 — which SAT Spezialbau in Stuttgart used in a double pack — is designed for such high permanent loads during joint cutting. The joint cutter is supplied with power and endurance by a high-torque, low-vibration Deutz 4-cylinder diesel engine which delivers 74.4 kW / 101 hp. The saw blade diameter can be up to 1,500 mm. The maximum depth of cut is 630 mm. In addition to sheer power, the UC 520 also impresses with superior ergonomics and versatility. The machine offers its driver several seating position, for the best overview in every situation. Lissmac developed the intuitive operating concept with multifunctional joystick and the clear central display in collaboration with long-term users. The UC 520 masters both thrust and drag cuts. In addition, the machine can be converted very quickly from left to right-hand cutting.
Superbly adaptable with side cut device
SAT Spezialbau ordered their new Lissmac UC 520 with the optional side cut device. It is used to cut expansion joints, and especially transverse joints in fresh concrete. In order to do so, the saw blade and the blade drive can be moved along the joint cutter beyond the wheel base. This makes it possible to execute cuts right up to the edge of the road. Peter Harig is enthusiastic about the benefits of the side cutter: the UNICUT 520 can be switched from deep cutting to fresh concrete cutting with just a few simple steps. This machine proved particularly useful for operations in Stuttgart where, in addition to cutting 20,000 m of old concrete, 20,000 m up to 25 cm deep fresh concrete cuts were also made. All in one machine, without wasting time with tedious modifications.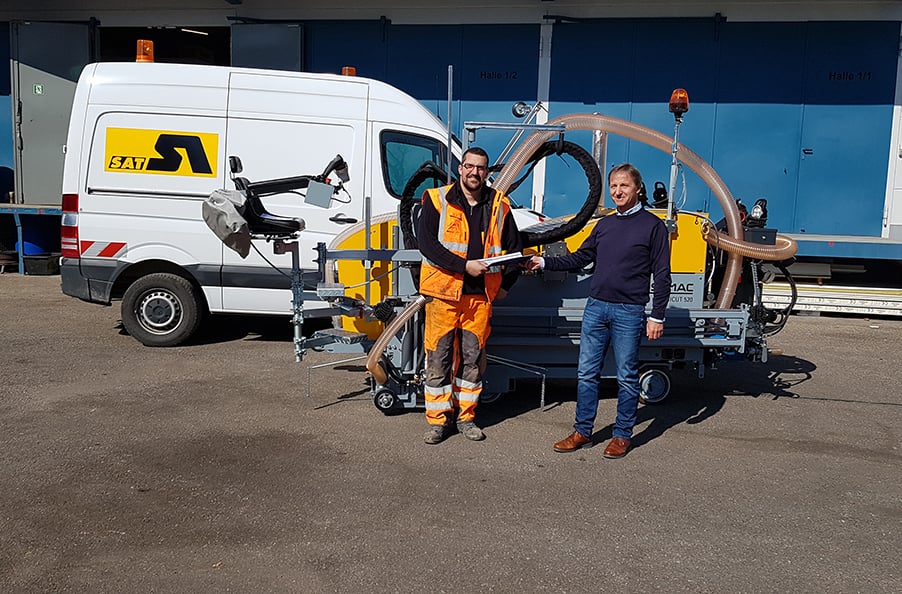 The experts at SAT Spezialbau, experienced in large-scale projects, planned sufficient machine output and, in addition to a second UC 520, also brought a Lissmac MULTICUT MC 900 to the airport construction site. The flagship of the MULTICUT series is available with a 55 kW / 74.8 hp Hatz 4-cylinder diesel engine that complies with the current Euro Stage V emissions standards. Thanks to its smooth axle steering, the machine can be operated by hand without a great deal of effort. There is also the option of using the MC 900 as a ride-on machine. The driver is able to control the joint cutter — which is optimized for single-handed operation — precisely and safely, even after hours of cutting operation. The low-vibration drive and the excellent straight running of the MC 900 ensures stress-free operation.
Source:Lissmac