Pöttinger, the grassland specialist, is expanding its range of tedding rotors upwards with a further model: the trailed HIT 16.18 T with 16 rotors and 17 m working width offers maximum output combined with high working quality and excellent ground-hugging.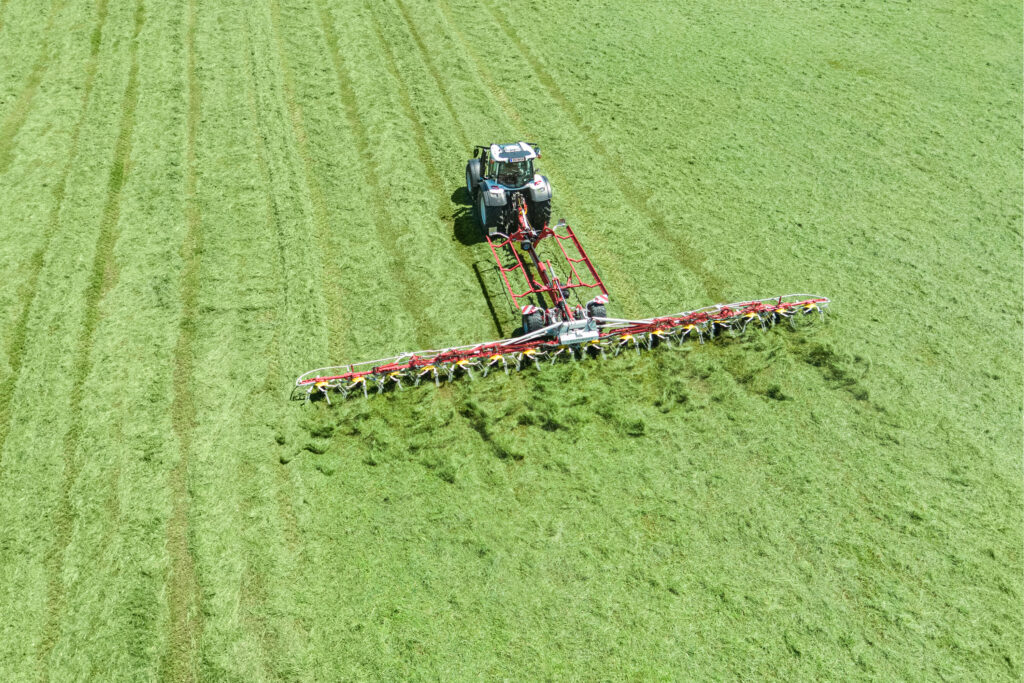 Best spreading quality with high area output
Farms are getting bigger and bigger, harvesting windows are getting shorter and shorter and the demands on fodder quality are increasing. To meet these requirements, Pöttinger has developed the trailed large tedder. The HIT 16.18 T stands for high area output, excellent ground-hugging, high operating comfort, and perfect spreading quality.
As with all tedders, the heart of the machine is the innovative DYNATECH rotor. The front guard bars are the load-bearing element and increase stability.
The rotor diameter is an ideal 1.42 m. The six curved tine arms pick up the forage cleanly and provide a perfect spreading pattern due to the ideal spreading angle. The trailing arms "pull" the tine and thus ensure gentle pickup. The unequal length of the tine arms pick up the forage evenly and thus improve the tedding quality.
Best ground-hugging even at large working widths
The two large wheels of the undercarriage are located close to the tine engagement and simultaneously serve as oversized feeler wheels. With these wheels, the tedder is always perfectly guided over uneven ground. For perfect ground-hugging, all frame elements adapt independently to any contour. In this way, each rotor adapts optimally to the terrain and ensures clean forage.
LIFTMATIC PLUS – sophisticated excavation
The new HIT 16.18 T also features the unique LIFTMATIC PLUS lifting technology of the rotors in the headland position: Using a double cylinder, the rotors are first brought into a horizontal position via a link and then lifted. This intelligent control of the lift prevents any piercing or scratching of the tines on the ground. This significantly reduces forage contamination and increases the quality of work. LIFTMATIC PLUS also reduces the tine load, which contributes to the machine's durability and efficiency.
The headland lift provides a large ground clearance, which makes the tedder much more maneuverable. However, this advantage not only means greater operating and driving comfort but also more flexible use of the tedder in the field, for example when working in irrigation ditches or when encountering obstacles in the field.
The HIT goes to the limits
For border tedding, the two right-hand outer rotors are optionally hydraulically swiveled backward at an angle of 15°. The two inclined rotors distribute the forage evenly to the mown area without swath formation. A strip to adjacent crops remains free. The rotors can be conveniently adjusted from the tractor seat via a double-acting hydraulic cylinder.
With the new HIT 16.18 T, Pöttinger brings a tedder in a class of its own for best work results: maximum output combined with optimum forage and soil protection for the demanding needs of farmers and contractors.
Source: Pottinger