Hidromek will introduce the new short radius crawler excavator HMK 235 LCSR and the new midi crawler excavator HMK 65 ZT while exhibiting its high technology machines at the 66th NordBau Fair, stand no 241. The 66th NordBau will take place from 8 to 12 September 2021 at the Holstenhallen Neumünster exhibition center.
HİDROMEK is producing backhoe loaders, hydraulic excavators, wheel loaders, motor graders, and soil compactors in its six production facilities including 4 factories in Ankara – Turkey, 1 factory in İzmir – Turkey, and 1 factory in Thailand. The new production facility located in an area of 1.4 million m2 in Ankara, Turkey has been continuing. Today, HİDROMEK has machines working in more than 100 countries on 6 continents.
HİDROMEK attendes Nordbau air with its wide product range
At NordBau Fair, over 800 exhibitors from 13 countries meet around 63,000 visitors annually. This year, HİDROMEK will exhibit its crawler and wheel excavators that belong to the new H4 Series while introducing its new HMK 235 LCSR short radius crawler excavator and HMK 65 ZT midi crawler excavator at NordBau Fair. HİDROMEK will also exhibit HMK 600 MG motor grader, HMK 640 WL wheel loader, and HMK 102B Alpha backhoe loader at the fair.
HİDROMEK's H4 Series excavators stand out with their operating speed. H4 Series excavators were produced to be faster, productive, and efficient with their developed hydraulic system design that produces more work with less fuel. Therefore, HİDROMEK excavators are more profitable and efficient than ever. During the design process with the aim of rendering the use of the machine easier for the operator, H4 Series has an electronic system with an increased capacity facilitating to find out the condition of the machine and its integration with additional equipment. H4 Series cabins are designed and built to offer safety and durability under ROPS & FOPS standards. The red handles and warning labels on the new series of machines are designed to increase the operator's safety to the highest level.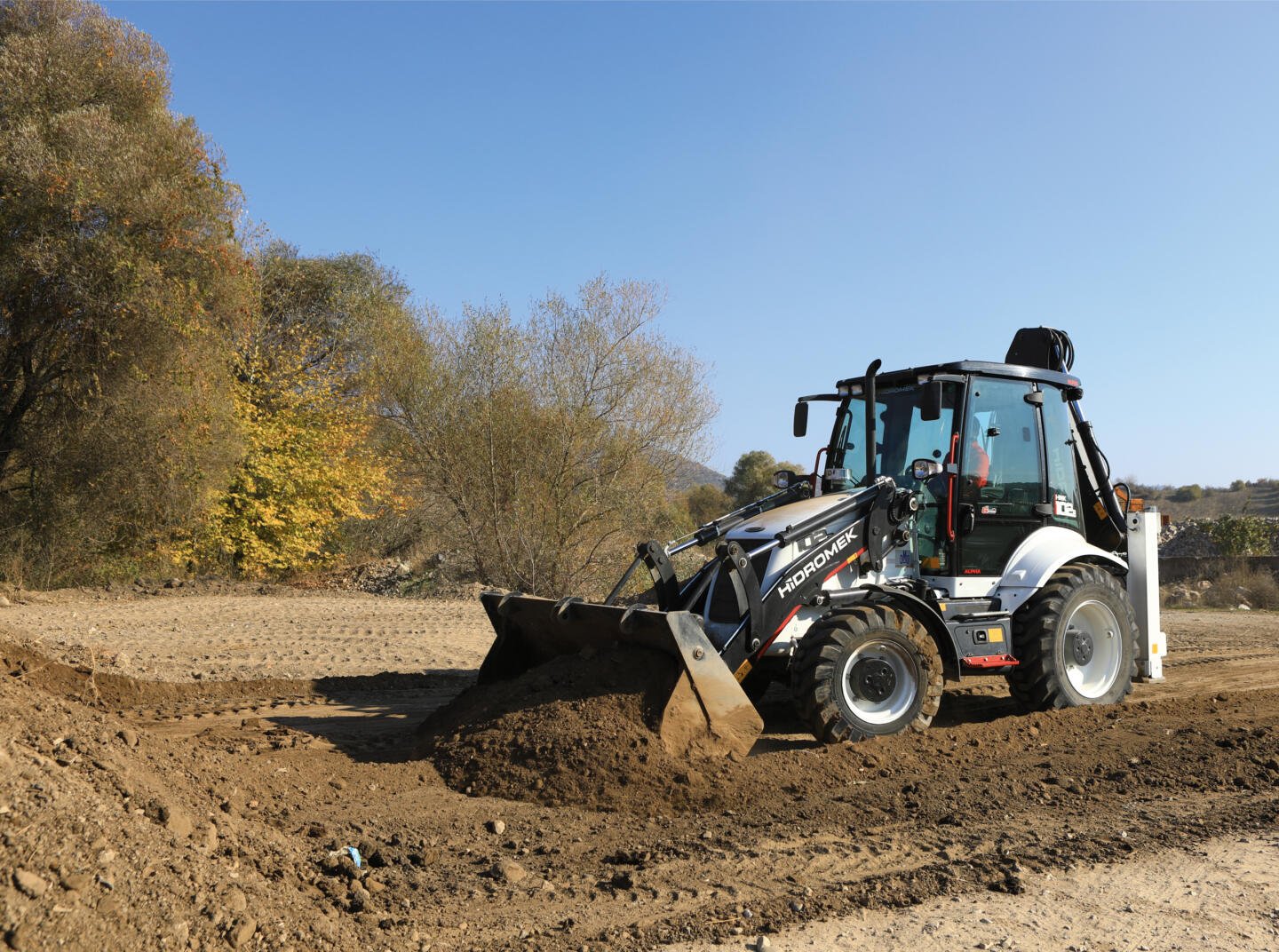 HMK 235 LCSR excavator
Being produced with developed hydraulic system design, HMK 235 LCSR crawler excavator with 2 piece boom belonging to new H4 Series, offers a high performance by working fast, productively, and efficiently. The machine has 172 HP at 2000 rpm engine power, maximum torque of 670 Nm at 1600 rpm, 26.630 kg of operating weight, and 1 m3 bucket capacity. With its 2250 mm minimum swing radius, HMK 235 LCSR provides easy operation in urban areas and narrow spaces. HMK 235 LCSR also offers versatile usage with many different attachment options.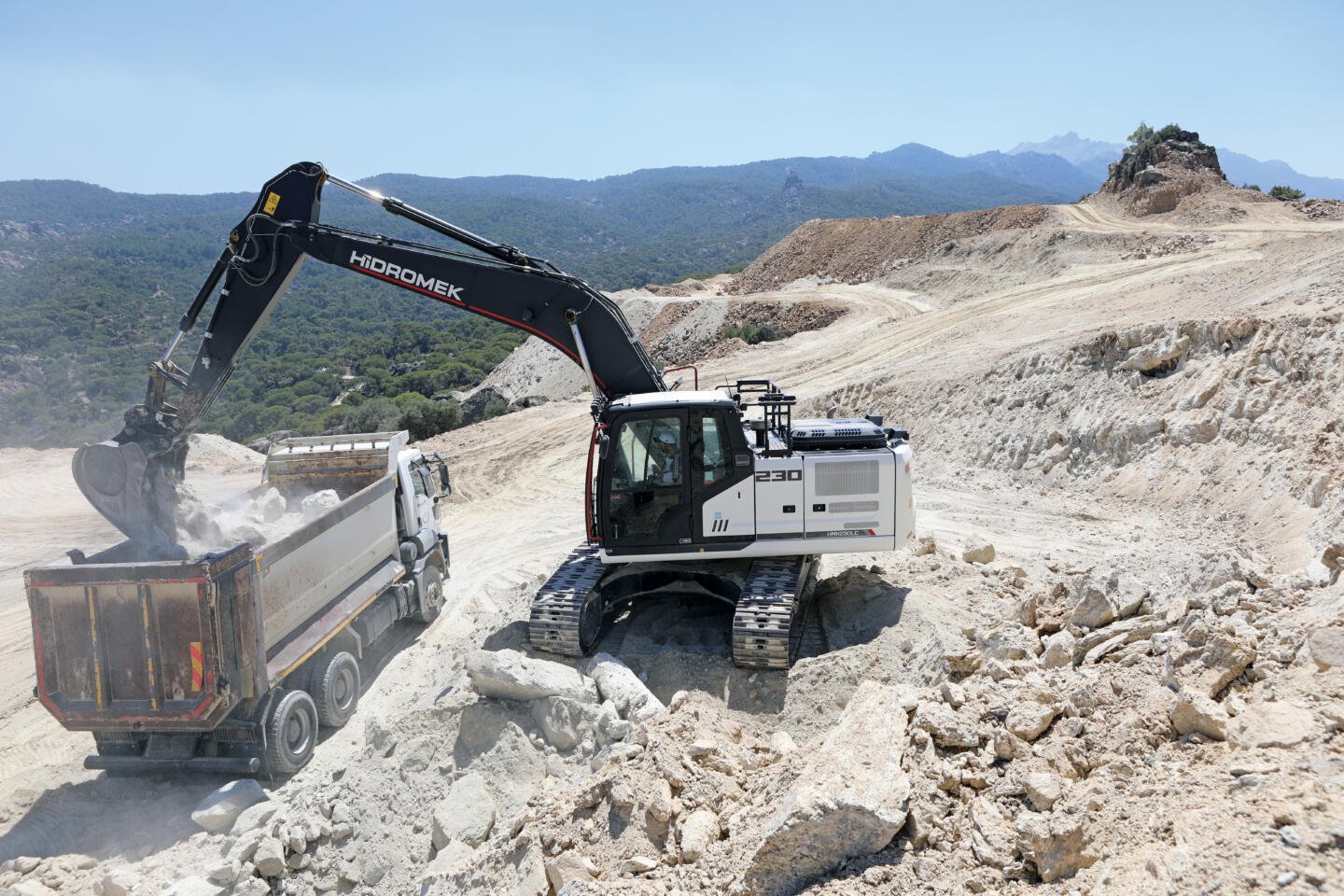 HMK 65 ZT midi excavator
HİDROMEK's new midi excavator HMK 65 ZT ensures high performance especially with its high-performance engine having 60 HP at 2200 rpm power and 225 Nm at 1500 rpm maximum torque as well as 0,18 m3 bucket capacity. Giving the options of mono boom or 2 piece boom, HMK 65 ZT with mono boom has 6950 kg operating weight and 2780 mm swing radius while 2 piece boom machine has 7100 kg operating weight and 2770 mm swing radius. Due to its compact structure, it offers powerful and precise operation for its users especially in urban areas, narrow spaces, and in different jobs such as construction, landscaping, material flooring, and leveling.
HMK 600 MG motor grader
HMK 600 MG motor grader, manufactured in 18 ton class, provides high traction even at low torques and offers low fuel consumption through its Mercedes (MTU) engine. Allowing the operator to have a wide view of the blade and the front wheels, HMK 600 MG enables safe and easy operation by being controlled both by the steering wheel and by the joystick and wide viewing angle of the hexagonal cab. HMK 600 MG motor grader, which has won international awards such as Reddot Award, German Design Award and Good Design Award, is preferred for many applications ranging from levelling and digging to bank cutting, trenching, and snow ploughing.
HMK 640 WL heavy-duty loader
HMK 640 WL, which has 26.3 tons operating weight and 4.2 m³ bucket capacity, with its Mercedes engine having 324 HP and 1600 Nm torque provides its user with high loading capacity at low fuel consumption in a short cycle time. HMK 640 WL heavy-duty loader provides high breakout force and control capability. It offers durability and efficiency for many years with its axles and components specifically used for high demanding working conditions. With its ergonomic operator cabin with ROPS / FOPS certificates, comfort and high security are prioritize. Furthermore, it provides easy serviceability with its 35 degree tilting cabin feature. HMK 640 WL wheel loader, which has won international design awards such as Automotive Brand Contest,  Reddot Award, German Design Award, and Good Design, is frequently used in mining and quarry operations, concrete plants, and industrial applications.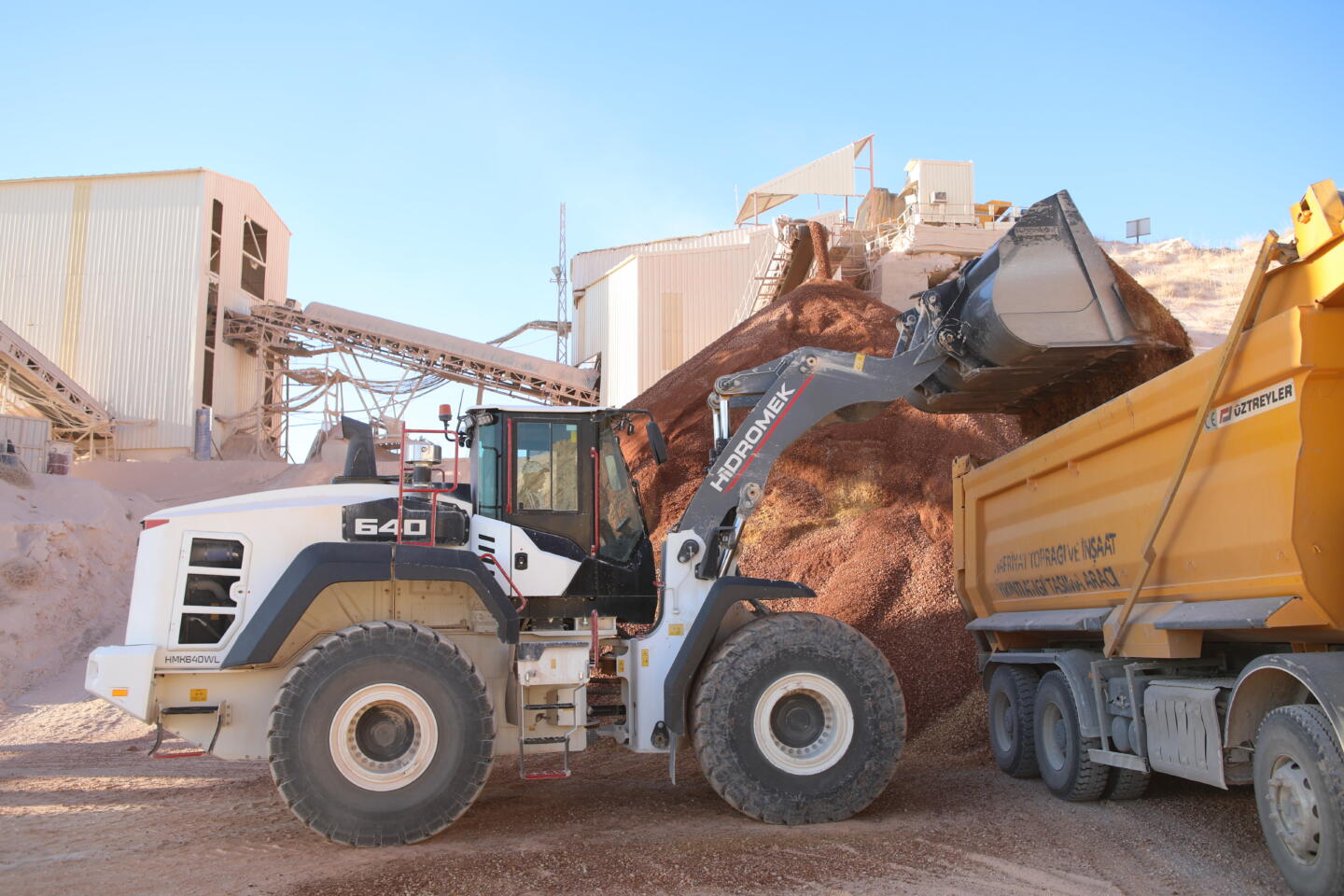 HİDROMEK backhoe loaders
HİDROMEK backhoe loaders, produced with advanced technology and having a strong breakout force, increase the efficiency with its high performance by providing less fuel consumption. HİDROMEK backhoe loaders, provide easy operation and comfort with their wide rear view and ergonomic working environment, due to its heavy duty axles to increase both load carrying capacity and durability.