DAF Trucks is showcasing a selection of rigid and multi-axle chassis at the new Letsrecycle Live event at the NAEC Stoneleigh; demonstrating the UK market-leader's strength-in-depth range of vocational vehicles for the waste and recycling sector. The rigid chassis on show all demonstrate best in class manoeuvrability – so often critical to maximum operation efficiency in the sector.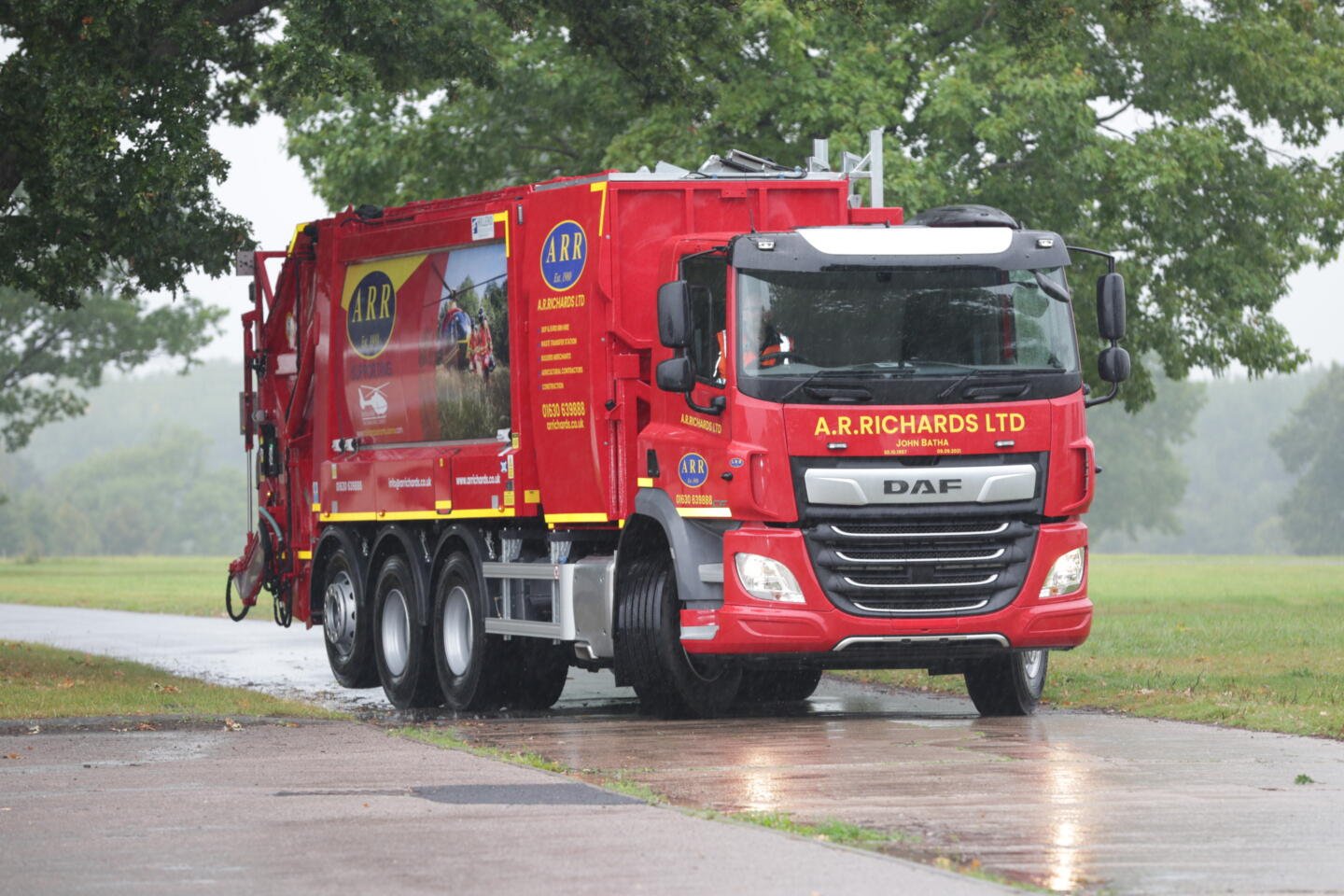 Two DAF tridems, a CF 410 'FAW' 8×4 chassis on loan from AR Richards in Market Drayton, and a DAF CF 450 'FAQ' 8×2 chassis courtesy of Anglian Water, represent optimum chassis solutions to deliver an intelligent combination of traction and manoeuvrability, according to each customers' individual operational requirements.
A nimble 16-tonne GVW LF 230 rigid is displayed with an innovative Macpac food waste body and equipment.
CF 410 'FAW' 8×4 tridem – AR Richards
DAF Trucks' FAW tridem – the latest addition to the DAF multi-axle rigid range – strikes the optimum balance between on / off road traction and high manoeuvrability, benefiting from a robust double-drive bogie and rear-steer capability. This extremely capable truck is fitted with a new 10-tonne front-axle to bring additional loading tolerance across the FAW chassis.
The FAW is ideally suited for AR Richards and other operators with an on/off-road requirement, and with particular appeal to those who may have previously used a 6×4 26-tonner and who wish to retain a high degree of manoeuvrability. The FAW delivers outstanding handling, but by moving up to 32-tonnes GVW, with the advantage of an extra five-tonnes of payload, i.e. tippers and mixers that need to negotiate narrow rural lanes or congested city streets being ideally suited.
AR Richards' show vehicle – one of two new vehicles for the waste recycling specialist – comes complete with Hillend Engineering's industrial Powerlink 19 cubic-metre rear loading compaction body and separate pod. The side loading pod is mounted in front of the body. This allows the vehicle to collect dry mixed recycling in the rear body and collect separately food waste or glass in the side loading pod.  This means two waste streams to be collected separately avoiding contamination but also ensuring the vehicles productivity remains high.
CF 450 'FAQ' 8×2 tridem – Anglian Water
The 8×2 tridem set-up on DAF Truck's 'FAQ' model offers outstanding manoeuvrability courtesy of its three steering axles. This configuration is proving popular with Anglian Water – this is one of an order for four new vehicles – and other operators where a combination of a heavy rearmost loads with a high degree of manoeuvrability is a necessity. The FAQ's single-drive element means minimal tyre scrub and reduced damage to surfaces – ideal for on-road and 'firm' off-road work.
The sleeper-cabbed show exhibit from Anglian Water features a water tanker body and equipment designed and installed by Whale Tankers. The truck supplies clean drinking water in the event of a disruption to mains supply by connecting directly to the water main and pumping water via an independent on-board engine.
The FAQ is also proving popular with a bulk animal feed operators delivering to small and remote farms.
LF 230 'FA' 4×2 rigid – Macpac Refuse Bodies
Supporting DAF Trucks' tridem theme at Letsrecycle Live is the company's hugely popular 16-tonne GVW LF 230 rigid; a compact highly manoeuvrable truck with practical and spacious cab and a generous 8.5-tonne body & payload potential. The compact chassis and nimble handling make the 16t LF a firm favourite in a number of municipal applications including road sweeping, waste and refuse collection work.
The show exhibit is fitted with an 11 cubic-metre Macpac 110 food waste body and optional bin-rinse system to eliminate the requirement for a second vehicle and crew to wash customers' bins. A pack and half-pack feature means the compaction blade can 'half-pack' to clear the hopper allowing the full 11 cubic-metres of the body to be filled to capacity.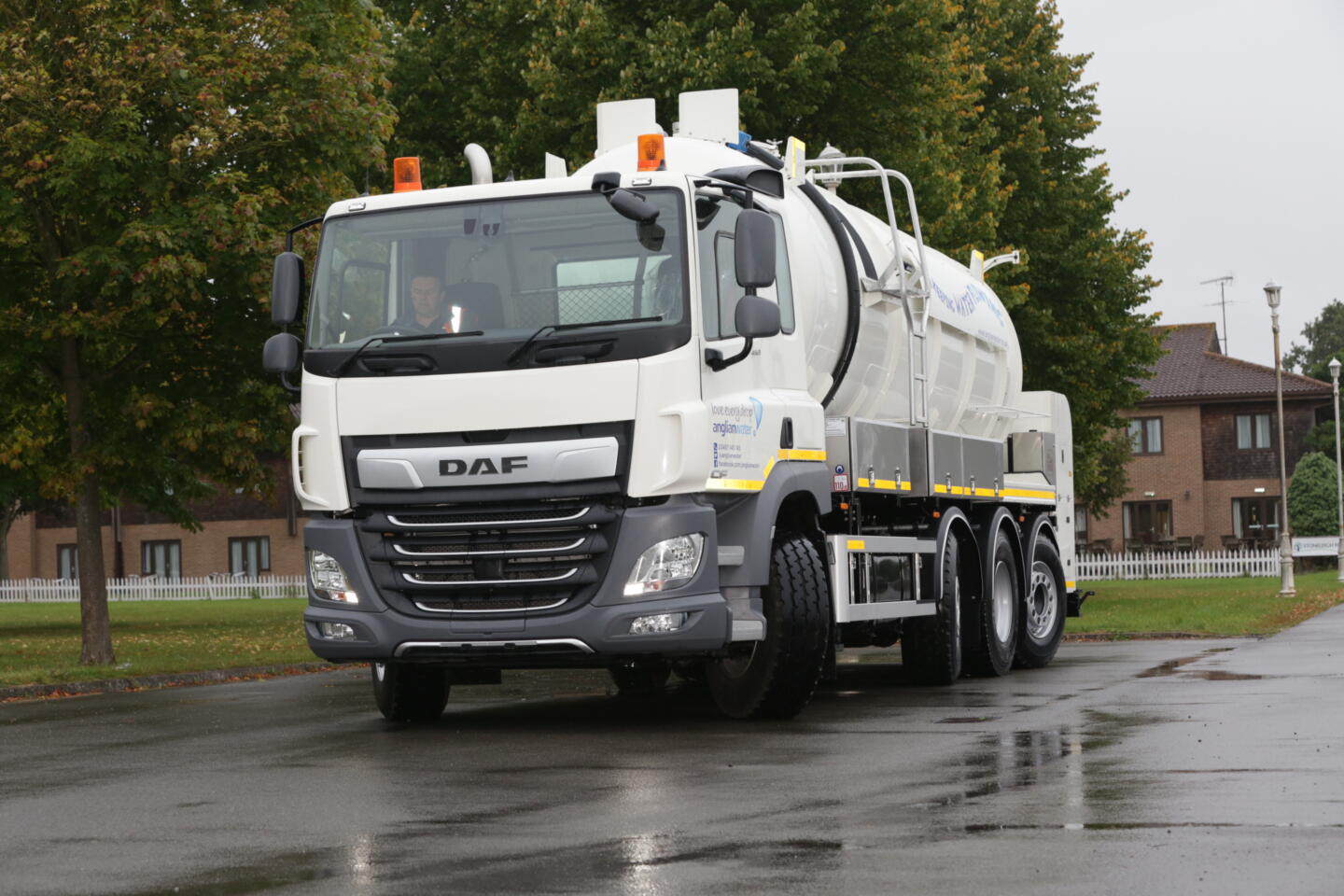 A 500kg lifter is fitted to the near-side front of the body to improving safety with operatives kept away from oncoming traffic approaching from the rear. The lifter is compatible with a large range of bins up to and including four-wheel role-top bins.
This body is also fitted with the latest safety equipment from Brigade, including the Back eye 360 camera system (with recording), back-chat, side-chat and additional rear camera and reverse radar.
VWS Enviroweigh Live bin weighing equipment is included to provide accurate weights to be taken for each bin, used for billing purposes and monitoring collection runs.
New Generation XG+ 530 'FTG' 6×2 Tractor
Whilst not strictly targeted at the waste and recycling sectors, the DAF Trucks team were keen to bring its recently launched New Generation DAF XG+ to Stoneleigh where it will undoubtedly draw considerable attention from visitors. Alongside the all-new XF and XG models announced in June, the New Generation DAF XG+ sets new standards for efficiency, safety and driver comfort.