In the Nyerere National Park of Tanzania, 370 km southwest of the commercial capital Dar es Salaam, two Potain top-slewing cranes are supporting the construction of the new Julius Nyerere Hydropower Station, operated by Tanzania Electric Supply Company (TANESCO).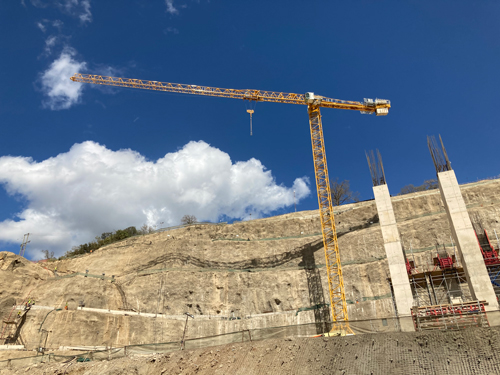 The US$3 billion turnkey contract, awarded to a joint venture of two Egyptian companies (The Arab Contractors and El Sewedy Electric (JVACEE)) involves the construction of a 134 m tall roller compacted concrete (RCC) gravity dam with a crest length of 1,025 m across the Rufiji River at Stiegler's Gorge. It also includes a giant powerhouse (300 m long, 60 m wide and 85 m high) on the right bank of the river.
Construction began in 2019 and when complete in 2022, the total installed capacity of the power station will be 2,115 MW for the production of 6,307 GWh of electricity per year.
Khaled Badawy, equipment manager for JVACEE said:
"When it came to choosing high-capacity cranes for this prestigious project, the Potain name seemed natural to us. Potain's experience in providing customized products for dams, bridges or any demanding project was a true differentiator for us and the team gave us numerous references as evidence of this specific know-how."
VACEE had specific requirements that the two cranes needed to fulfil. One of the cranes, for example, needed the ability to lift 54 t up to 31.7 m to install the stay rings for nine vertical Francis turbines. The experienced Potain Lift Solutions team took up the challenge and was able to propose and deliver the most efficient and cost-effective solution for the job.
Power and performance
The first crane Potain recommended was a MCT 565, which is the second highest capacity topless crane. In the 20 t variant, it offers a height under hook of 66.5 m and 8.7 t lifting capacity at the 60 m jib end. The second crane was the huge MD 1600. In the 64 t variant, it has a height under hook of approximately 77 m and a lifting capacity of 27.95 t at the 60 m jib end.
Both cranes were configured to be mounted on a traveling platform, moving on a single 300 m long and 10 m wide rail track. Each crane also included a Potain TCL crane operator elevator to provide greater convenience for the operator.
The sub-assemblies of the two cranes were equipped at a pre-assembly area, and then transported more than a kilometer to the erection area located approximately 70 m below. The pre-assembly of the MD 1600 began mid-March 2021 and both cranes were commissioned by the customer at the beginning of July 2021.
Close collaboration
"The Potain Lift Solutions team was very professional in listening to our requirements. From design to erection, the performance was as high as expected,"
said Mohamed Shoukry Khatab, JVACEE's equipment manager for the powerhouse with responsibility for tower cranes.
Patrice Penanhoat, manager for Potain Lift Solutions added:
"The success of this project is the result of various collaborations. First, collaboration with the joint venture teams, the Manitowoc Middle East sales organization and the Egyptian Potain dealer IDP in order to propose cranes with the right features and performance. Then, collaboration with the Potain engineering department and the production plants in France and in China to design and produce both cranes in approximately 10 months. Finally, there was strong collaboration between the joint venture local management, the IDP erection manager, French supervisors from the Potain aftersales department and the Egyptian and Tanzanian fitters to erect the cranes in a particularly difficult environment."