Cifa is upgrading its range of batching plants to offer products with an increasingly higher value and capable of providing solutions for the most complex of needs.
CIFA has over 90 years of experience in the construction of concrete machinery and plants. With its FiveTech models – exclusively dedicated to the production of ready – mix concrete – it brings to the market all the know – how of a manufacturer familiar with the entire supply chain and the specific needs of the sector. With the overhaul of the range, CIFA has arranged models into four series, whose names deriving from precious stones – "Diamond", "Sapphire" and "Zircon" (+ "Dry") – are meant to symbolize the high value of these solutions for clients.
Sales, Aftersales and Marketing Director Marco Polastri, said:
"We want to offer our customers both a complete and well – organised range to provide a product with superior performance and a high level of process control, confirming our "Driven by Innovation" vision. In a European scenario that sees governments tackle the pandemic with important recovery plans, large investments are expected for the construction of new infrastructure, which can be built with certified and traceable concrete to ensure product transparency and sustainability. Manufacturers therefore need to have high-level, functional, high-performance and long-lasting plants. The range was reorganised precisely to offer high-value plants".
The value of FiveTech plants can be summed up in five points:
1. Transportable and easy to install, all the plants are designed to be handled with standard means of transport and are pre-assembled to ensure they are up and running in the shortest possible time.
2. Modular design, the single plants are designed to have a flexible and modular design according to customers' different needs.
3. Dosing precision and reliability, all the materials involved in the creation of the mixture are accurately dosed to consistently ensure a quality output over time.
4. Cutting-edge mixing technology, first-class materials and detailed design to ensure a constantly high-quality mixing performance over time and easy maintenance.
5. Complete operational control that can be integrated with the CIFA Vista monitoring plant: an intuitive interface ensures you can fully monitor the activity of the plant and generate accurate reports.
The modular structure provides the plants with unparalleled flexibility. Plus, the automated control system enables you to accurately and safely manage every stage of the process, also thanks to the integration with CIFA's Vista software: real-time data monitoring and analysis for the single plant, and the range of CIFA machines.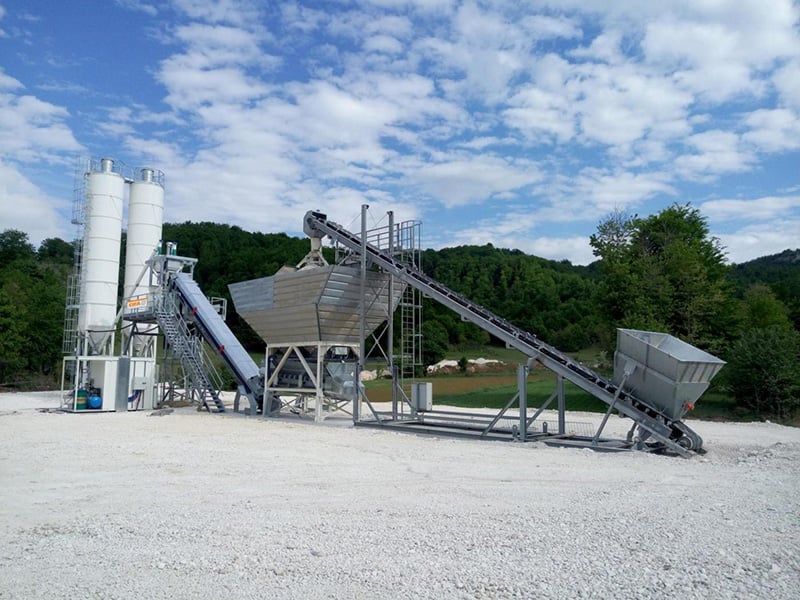 The plants are divided into the following "precious" series:
• Diamond, the most advanced solutions. They feature simple transport and assembly and, above all, an automated and finely controlled mixing process. This series has been designed with a view of optimising the production costs of ready-mix producers both in the case of projects and for concrete distribution centres. The series consists of five models covering a production capacity of 50 – 70 – 100 – 130 – 180 m³/h. These are also available with configurable modular aggregate storage groups, generally from four to six compartments and with automatic loading systems to improve raw material handling. All solutions are characterised by highly efficient and leading-edge horizontal double-axis mixers with an advanced maintenance system.
• Sapphire, like the Diamond series, includes all the most advanced features and has been designed in detail to make handling easier during transport by sea, for the benefit of the most remote countries and sites across the world. A leaner and more optimised product compared to the Diamond series, but with the same production capacity, 50 – 70 – 100 –
130 – 180 m³/h, and the same modular configuration. The category is fully painted and comes with components that are less sophisticated, but easier to use. The whole series always includes the horizontal double-axis mixer typical of the ready-mix sector.
• Zircon, a simpler solution that still provides high performance, durability and precision, with the same efficiency and product quality. These plants provide for streamlined transport and particularly agile installation, with the ability to handle from 70 to 130 m³/h of concrete. This series of products was created expressly to load concrete mixers and has a relatively limited number of features. It has a simpler structure and is in line with the most common configurations required by the market: aggregate unit with four or five compartments, up to four silos for cement and a dvanced double horizontal axis mixers with a capacity of 1.7 – 2.5 – 3.33 m³.
• Dry, dedicated to dry dosing markets. These are semi-mobile plants that require very simple foundations, can be transported with standard trucks or 40" containers and are designed to reduce assembly and disassembly to a minimum. This series of modular dry loading plants has an exclusive cement dosing system fitted on the loading belt in order to increase precision and speed when unloading into the concrete mixer and reduce the amount of raw material used. Every plant is fully integrated with configurable modular aggregate units and automated powder filtering systems. The available production capacity per cycle is 8 – 3.5 – 5 m³.
To complete the range there are also the "CIFA Wash" recycling plants: easy and with minimal maintenance, they allow for the reuse of aggregates with the separation of solids measuring 0.15 mm. The solutions consist of two models with a treated grey water capacity of 11 and 25 m³/h and are all available with an intake hopper designed for concrete mixers and pumps. The solutions also include the related 1.5 and 2 m³/h filtering systems for dirty water to obtain filtered water to be reused in the concrete mixing plant.