Designed to deliver genuine fuel savings and a guaranteed high mileage, the Conti EcoPlus tyres for long-distance transport are a valid contributor to more sustainable logistics. Following the launch of the updated Conti EcoPlus HS3+ and Conti EcoPlus HD3+ tyres in the last year, the updated Conti EcoPlus HT3+ tyre for the trailer axle now completes Continental's third generation of its eco-friendly tyre family.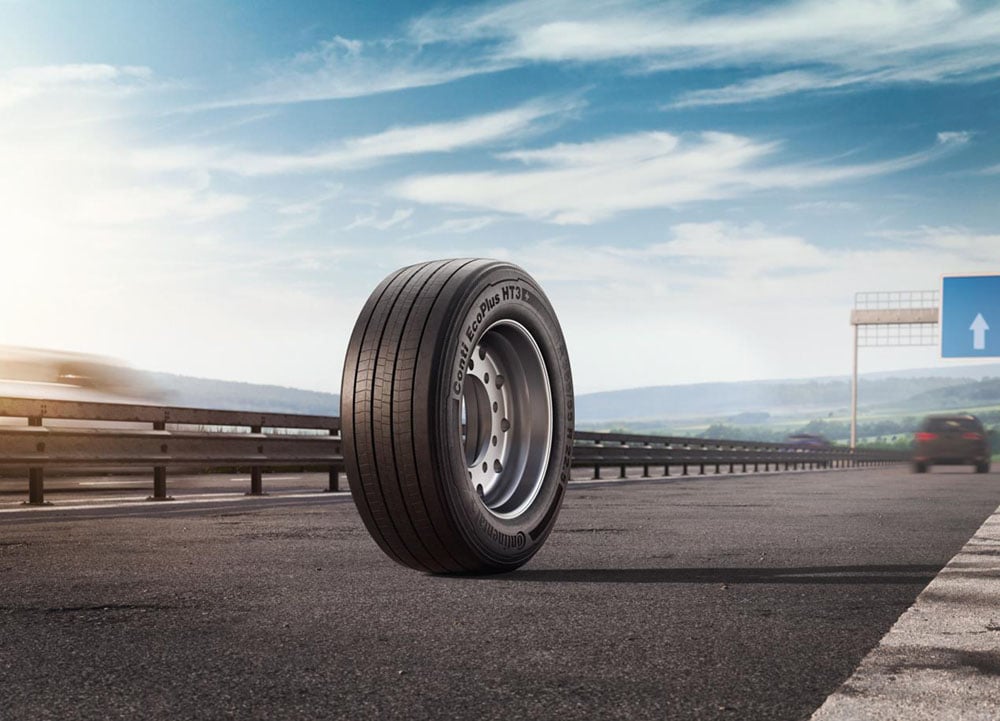 The premium tyre maker employed innovative rubber compounds and state-of-the-art manufacturing techniques to deliver further refinements to the tried-and-tested Conti EcoPlus HT3+ long-distance transport tyre. Its performance has been optimized for both rolling resistance and mileage. As a result, the tyre promises outstanding fuel efficiency, while also offering excellent retreadability. Additionally, the new 3PMSF marking verifies the tyre's safety credentials for all-weather driving, including in challenging snow or ice-affected road conditions. The Conti EcoPlus HT3+ also offers the best possible grip in the wet, reflected by the EU tyre label's A rating for this characteristic. All in all, this tyre is the ideal choice for keeping actual overall fleet costs to a minimum.
Higher mileage: fuel saver for the trailer axle
With the updated Conti EcoPlus HT3+, Continental is offering its fleet customers a long-distance transport tyre that achieves remarkable fuel efficiency. The tread's two-layer construction and the improved rubber compounds for both the tread and sidewall have made it possible to further reduce rolling resistance and increase mileage. This is mainly down to the refined production process featuring Fuel Saving Edge technology and an optimized sipe pattern. The new groove geometry more effectively distributes pressure across the entire tread, resulting in uniform wear. In turn, this prevents the occurrence of one-sided wear or damage to the casing, preserving tyre retreadability.
"We have now completed our product line for emissions-conscious fleet operators with the arrival of the Conti EcoPlus HT3+. This robust, long-lasting, and fuel-saving truck tyre helps our fleet customers to make their long-distance transport logistics more sustainable."
remarks Hinnerk Kaiser, Head of Tyre Development at Continental.
Lower fuel consumption: improved environmental footprint and superior fleet efficiency
Fuel-efficient commercial vehicles are good for both fleet expenditure and the environment. The impact of rolling resistance on fuel consumption can be as high as 30 percent and is, therefore, a key lever for tyre developers. Rolling resistance is also one of the parameters used by the VECTO simulation tool for calculating a truck's fuel efficiency, and continues to be a key issue for the transport industry which, as has been well documented, needs to achieve a drastic cut in its CO2 emissions by 2030.
Operating profile, tyre design, tyre pressure, and rolling resistance combine to make a decisive difference in how much fuel a fleet consumes and how much could be saved – a crucial consideration at present with fuel prices at an all-time high.