DAF Trucks' New Generation DAF range – comprising XF, XG and XG+ models – is being shown in full at the first Road Transport Expo (RTX) at NAEC Stoneleigh. Following a memorable online launch event last year, the New Generation DAF range has picked up the prestigious International Truck of the Year Award 2022.
DAF Trucks is the first manufacturer to take advantage of the EU's new 'masses and dimensions' legislation; the result being three individual models with a ground-breaking design that offers improved fuel efficiency, safety and unrivaled levels of space and comfort.
RTX also provides DAF Trucks with the opportunity to showcase its zero-emissions electric product offerings, in the shape of a 19-tonne DAF LF Electric and CF Electric 4×2 tractor.
The New Generation DAF range has been the center of attention at a number of shows over the spring and summer, with RTX set to offer one of the year's biggest stages. The new 'masses and dimensions' rules have allowed DAF Trucks to fully focus on aerodynamics – helping significantly towards delivering an overall potential 10% fuel saving for operators whilst offering improved safety, especially for vulnerable road users by virtue of improved direct vision. The new streamlined, elongated cabs also offer increased space, which together with the refined interior and exceptional ride and handling, deliver superb levels of driver comfort.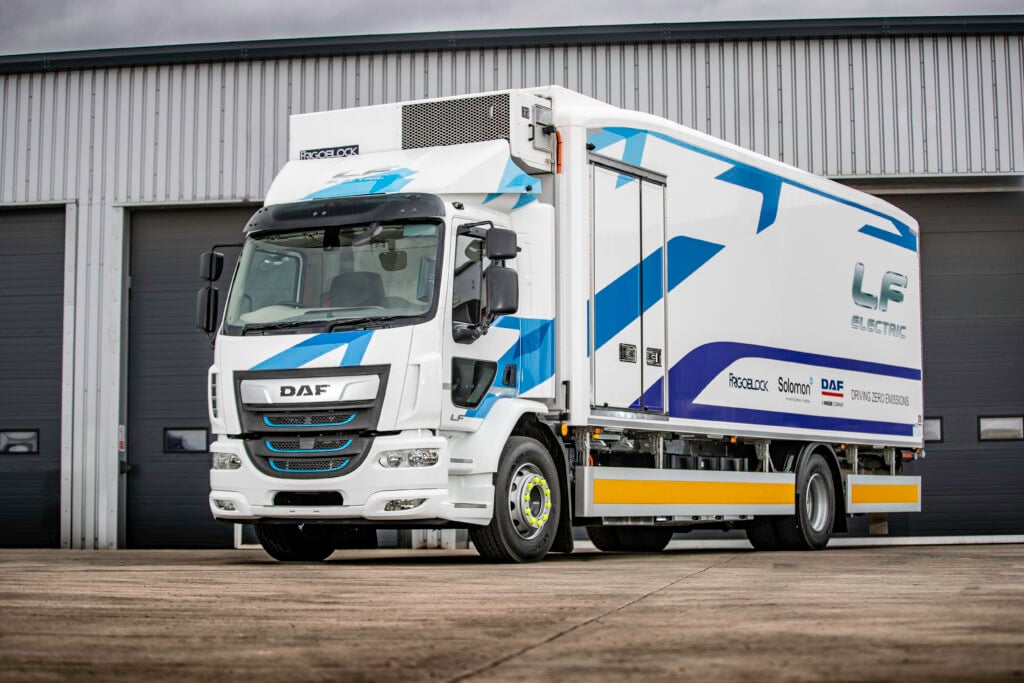 HVO – dramatic CO2 reduction is available now.                                                  Featuring on DAF Trucks' RTX stand will be New Generation DAF XF 480 FTG, an XG 530 FT Low-Deck and a range-topping XG+ 530 FTG. The trucks are all fuelled with HVO (Hydro-treated Vegetable Oil); a drop-in alternative to diesel requiring no vehicle modifications and delivering a 90% reduction in CO2 emissions from well-to-wheel compared to regular diesel. DAF Trucks is seeing a steady pick-up of operators turning to this environmentally friendly fuel.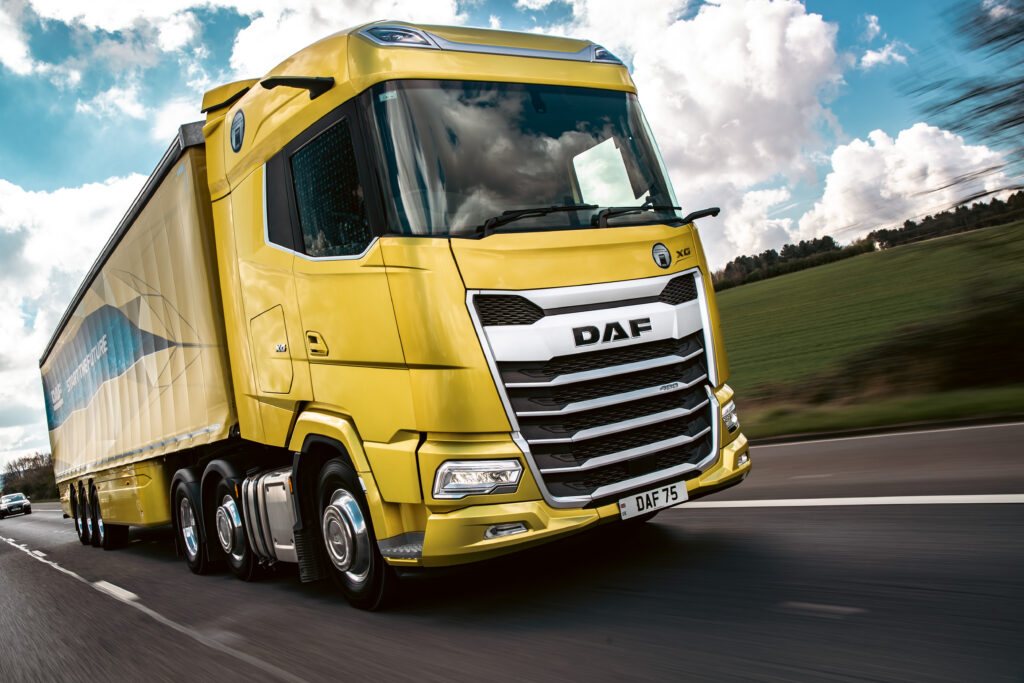 Zero-emissions – DAF LF Electric and CF Electric                                                     Co-starring alongside the New Generation DAF at RTX will be a zero-emission 19-tonne DAF LF Electric and 37-tonne CF Electric tractor. These are two of three current battery-electric models from DAF Trucks, alongside a 27-tonne CF Electric 6×2 rigid ideally suited for refuse collection and for other urban distribution applications.
The British-built 19-tonne LF Electric is designed and manufactured at Leyland Trucks in Lancashire. The vehicle on show is fitted with a Solomon refrigerated body equipped with a Frigoblock refrigeration unit powered from the main vehicle batteries delivering an entirely zero-emissions transport solution.
All charged up – PACCAR charging solutions.                                                          DAF's LF Electric exhibit is also being showcased with a PACCAR charging unit; one of a range of static and mobile PACCAR charging solutions that are available from 20kW to 350kW to suit both AC and DC charging. Experts from DAF Trucks will be on-stand to explain how the market leader is delivering a comprehensive package of solutions to support the roll-out of its Battery Electric Vehicles (BEV) into service, including service and parts support, and dedicated BEV training for its DAF Technicians at UK DAF Dealer locations matched to customers' area of operation.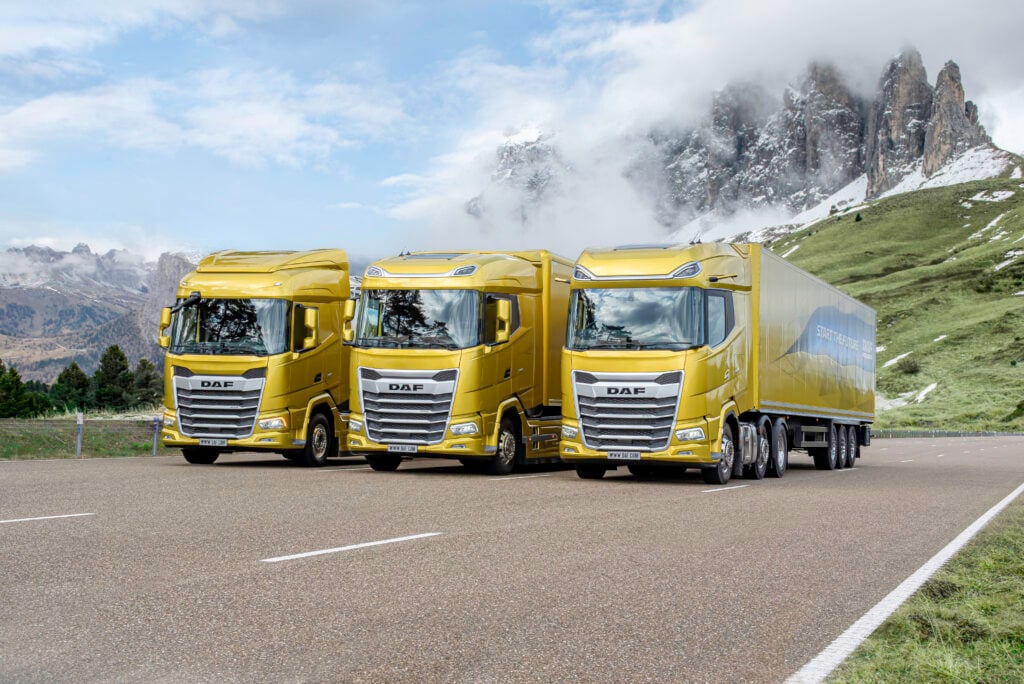 Proving popular – DAF zero-emissions trucks                                                        DAF Trucks' latest zero-emissions LF Electric and CF Electric are now in service in multiple operations with over 30 vehicles on UK roads, including 20 LF Electric with the NHS Supply Chain and local authorities as part of the government-backed Battery Electric Truck Trial. Five CF Electric tractors have also been delivered to Amazon, while two CF Electrics are in operation with South Wales-based FSEW under contract with Tesco.