From now on the more powerful machines of the G2700 series by TOBROCO-GIANT offer also electrically driven types: The models of this series are able to transport complete pallets of bricks and are more than useful to fulfil heavy tasks with attachments which need a huge amount of hydraulic oil for work.

Within recent years the longing for a more environmentally friendly way of work received more and more influence on decisions concerning investments made in the branches of construction, demolition, agriculture and gardening. Also, the possibility to work with electrically driven machines under the total absence of emissions with less disturbance for the vicinity grew more and more important. At the same time there is now the war in the Ukraine which leads to the fact that fuels are becoming a constantly growing cost factor.
With the expansion of the E-range of its compact wheel loaders TOBROCO-GIANT made the next step towards the goal of offering an E-model of each series in the future. Customers will always have the choice of opting for an electrically driven machine according to their operating needs and daily tasks. Since 2019, TOBROCO-GIANT has built almost 1.000 loaders with electric drive and is surely up to the newest knowledge about lithium-ion batteries and battery management systems.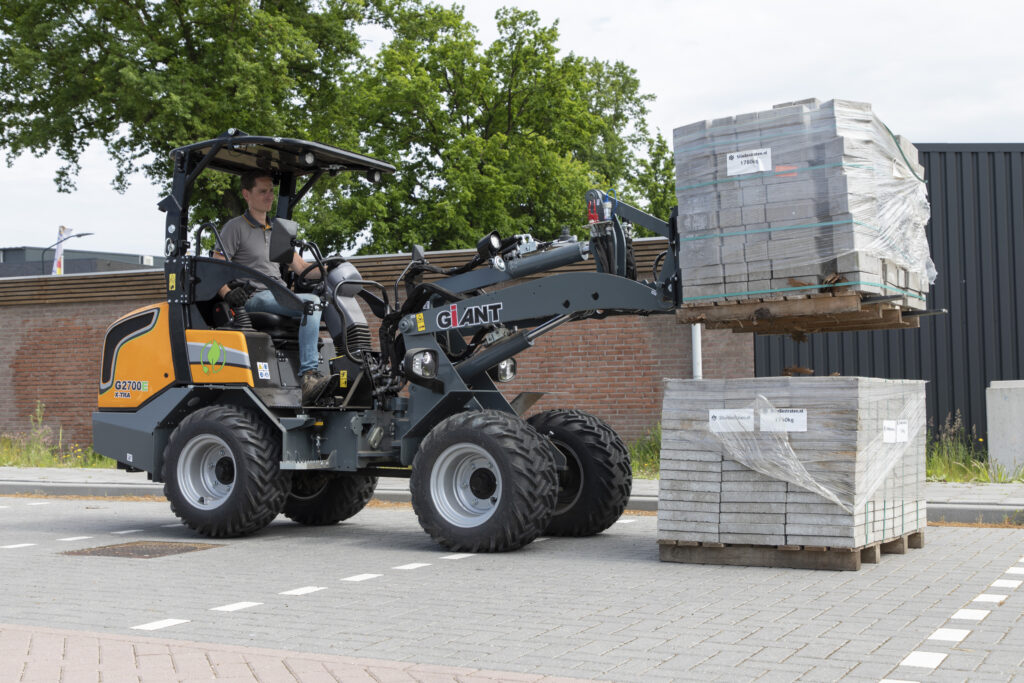 Persistent and powerful
Because of a higher service weight of almost 2.600 kg and their pulling force of 12.500N the now electrified models G2700E and G2700E X-TRA are able to execute more heavy tasks than smaller models. Lifting and transporting of a whole pallet of bricks or tiles is no problem at all. Furthermore, the G2700E offers a tipping load of 2,240 (or 2,390 kg with counterweight) and for the X-TRA-Version it is 2,300 and 2,650 kg. The machines also impress with a lifting height of 2.96 m for the G2700E and 2.5 m for the G2700E X-TRA.
With those machines longer and harder tasks can be fulfilled, as the use of attachments like mowers, sweepers and flail mowers which require a large amount of hydraulic oil. For this purpose, it is optionally possible to equip the loader with a hydraulic oil cooler to counter possible thermal challenges.
Technically advanced
The loaders are equipped with an 48V LPT-battery. That means it is a lithium-iron-phosphate-battery which offers a lot of advantages like an extended life time, more safety and an improved discharging and charging efficiency, the required maintenance is also close to zero. The battery can be charged via the onboard charger within five hours. Also, the wheel loader can be charged like any electric car at a car loading station. It is possible too to use an external high frequency charger with 48V/150A or 48 V/300 A, with which the machine can quickly be recharged, e.g. during the lunch time break. This can make sense, if the machine is used the whole day with heavy duty tasks without many interruptions. The G2700 E and the G2700 E X-TRA are driven by a powerful 6,5 V electric engine. A hydrostatic 4-wheel drive with automotive steering and 100% switchable lock on both 14-ton-axles prevents the machine from losing touch to the ground and always provides sufficient pulling force for smooth movement.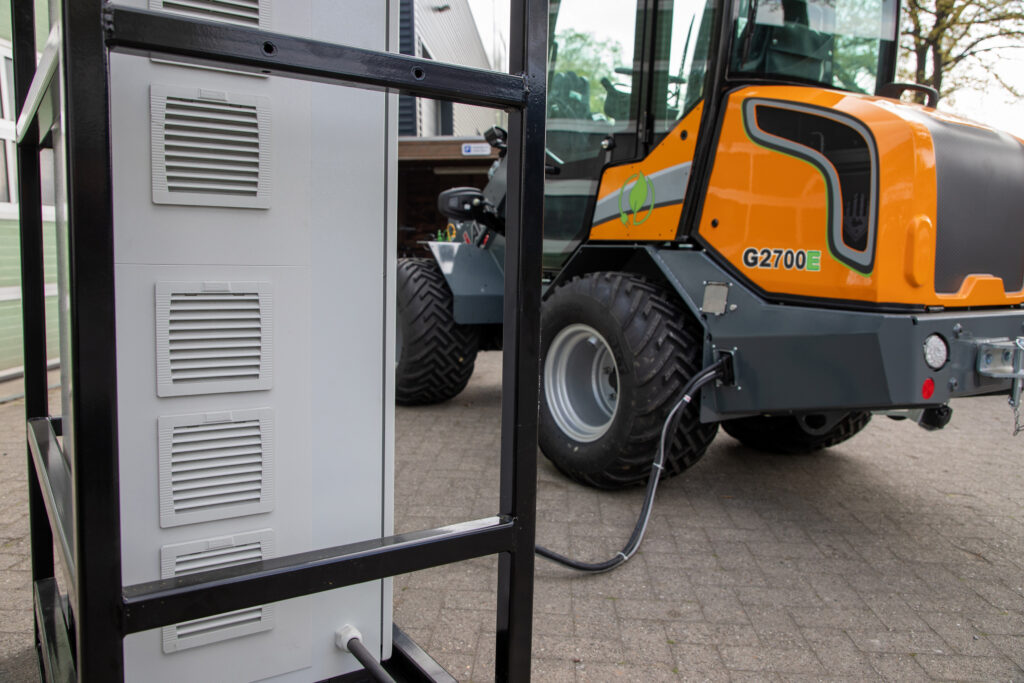 The machines of the G2700E series can be driven with three different speeds for a precise and controlled way of work, they also provide the tow mode, in which the machine can roll freely. Also, there is automatic recuperation every time the brake is used. The hill-hold-function also proves very useful, it prevents the machine from rolling back when started on slope. The wheel loaders provide very large and comfortable cabins, but still have compact measures and a small enough weight to be transported easily on a trailer. The working hydraulics is driven by a 12 kW electrically driven engine, which makes 35l/min of oil with a pressure of 170 bar for the attachments available.