FPT Industrial, a brand of Iveco Group, attended the China International Construction Equipment Exhibition (CICEE) 2023 to be held at the Changsha International Convention & Exhibition Centre (Changsha, China) from May 12 to 15. After eight years of continuous growth, CICEE has become one of the main fairs in China and one of the largest trading platforms in the world for construction machinery parts and components.
To continuously help Chinese OEMs become even more international, FPT Industrial offers a full range of engines, from 2.8 to 16 liters, compliant with stringent emission limits up to Stage V. Characterized by a compact design, each FPT Industrial engine delivers high performance, flexibility, reliability, and low TCO (Total Cost of Ownership).
It also offers a broader range of solutions to support Chinese power generation OEMs on the global market and is going to expand its PG line-up by offering PG China IV engines with FPT Industrial's patented Hi-eSCR ATS technology.
F28 DIESEL STAGE V / CHINA IV – POWER IN A HIGHLY COMPACT PACKAGE
Launched at Bauma China 2020, the F28 engine makes a much-awaited return. A modular and highly compact engine, delivering the performance of a 3.4 l engine in a 2 l package to meet the demanding requirements of compact construction and industrial equipment. As one of the stars of FPT Industrial's stand at CICEE 2023, the F28 is born with a multi-fuel design that shares common base components with the diesel, natural gas and hybrid versions.
The F28 Stage V works for both space and performance-driven applications thanks to its enhanced output in a highly compact package. Its versatile design makes F28 ideal for a wide range of construction applications.
Single side serviceability and a 600-hour oil change interval make it much easier to maintain and reduce operating costs. The F28 can be customized upon request, offering a wide range of options including flywheels, housings, oil pans and filters.
The highly compact after-treatment solution is compliant with the more stringent European Stage V regulations and with China IV emissions, while also covering the Tier 4 limits for North America.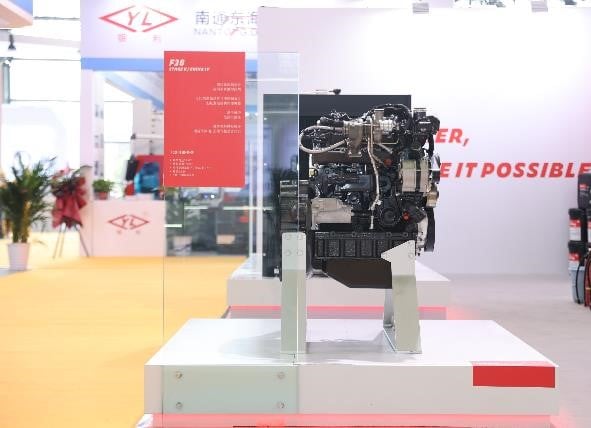 NEF 67 WITH ATS STAGE V / CHINA IV PG & CURSOR 9 WITH ATS CHINA IV / STAGE V PG – A NEW ERA OF POWER GENERATION
Power generators manufactured in China are increasingly gaining ground and respect on the global market. In order to help OEMs speed up this process, FPT Industrial will be presenting two top-notch models from its wide PG range at CICEE 2023, both featuring China IV and Stage V ATS for enhanced efficiency and proven sustainability.
The N67 offers high, reliable performance with optimized fuel efficiency for power generation applications, and features high load acceptance and fast engine response thanks to the wastegate turbocharger, as well as low operating costs thanks to its best-in-class service interval (600 h) and fuel consumption. In addition, the N67 G-Drive is the most compact engine on the market, allowing for a more efficient installation. While optimizing the G-Drive layout and compactness, the pre-assembled ATS is a solution for the entire life of the engine, maximizing engine uptime without impacting maintenance costs. Finally, the engine combustion is EGR-free, offering outstanding performance and fuel efficiency.
The Cursor 9 represents the state-of-the art in Common Rail technology. Characterized by a compact design, it perfectly suits a wide range of power generation applications, together with reliable and proven technology for all customer requirements (EGR-free, closed crankcase ventilation) and more than 25 years of experience in SCR technologies. The Cursor 9 features high load acceptance and fast engine response, together with low operating costs and one of the best-in-class service intervals. Compliance with China IV/Stage V emissions legislation is aided with the pre-packaged and pre-validated ATS, for easy and effective emissions compliance; efficient installation and the ability for Stage to switch between 50/60Hz provides market flexibility.
"With the increasing competitiveness and brand recognition of China's construction machinery OEM products, more and more Chinese OEMs have been focusing their business development on internationalization, and the target market has also shifted from low-emission countries to high-emission regions. This change gives FPT Industrial new business opportunities."
says Riccardo Pavani, Head of China Powertrain Commercial Operations for FPT Industrial.