The Monte Grande dam in the southwest of the Dominican Republic serves as a key element of the country's infrastructure. Tourism and using dammed water for irrigation of agricultural land also play a significant role. BAUER was commissioned in 2019 to construct a cut-off wall to seal off the dam base. By May 2020, Bauer constructed around 26,000 m² of cut-off wall over a length of 1,350 m, down to an average depth of 23 m and with a thickness of 800 mm underneath the dam foundations. In May 2022, Bauer returned to the Monte Grande dam for Phase II which consisted of the construction of a reinforced diaphragm wall acting as a flip lip for the dam spillway, protecting the toe of the dam from erosion.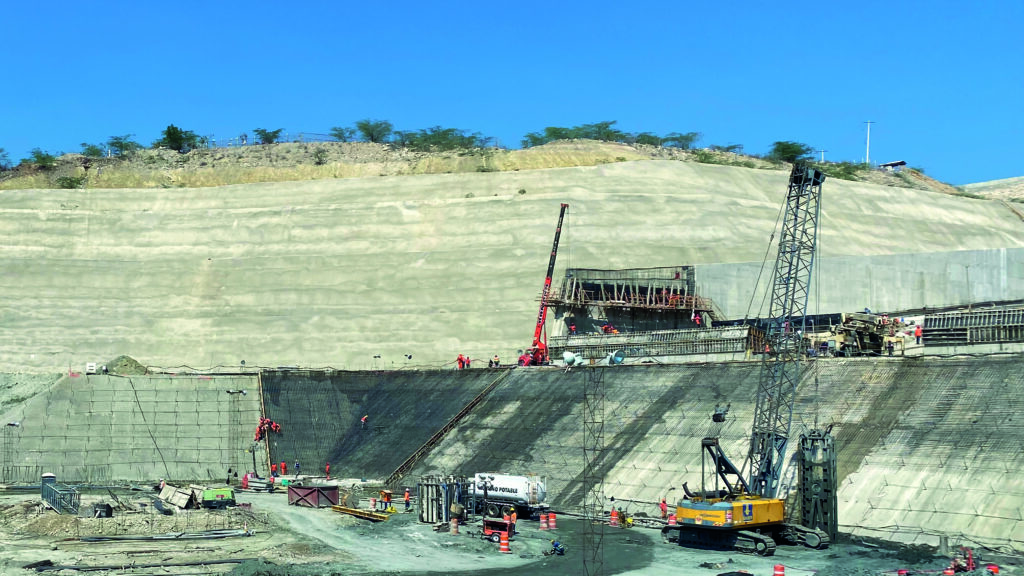 In total, 55 panels were installed with a thickness of 800 mm. Panel lengths varied between 2.8 m for a single-bite panel up to 7.1 m for a triple-bite panel. A BAUER polymer-based stabilizing slurry was used to assist the excavation work with two rope grabs. Depending on the requirements, different panel shapes were constructed including straight panels as well as L- and V-shaped panels.
"In total, we constructed 7,828 m² of diaphragm wall with a total length of more than 320 m. The excavation depth was 24.5 m. Temporary flat steel stop-ends with installed water-bar made of rubber were used, followed by reinforcement cages of up to 15 t per panel. Highly fluid (high slump flowable) concrete was used as the filling material"
remarks Project Manager Nuno Pires.
One particular challenge during this project was the excavation of the existing hard soil and rock layers. The geology encountered was very heterogeneous and the strength of rock, particularly the limestone and sandstone, was very high with values up to 45 MPa. To enable the excavation of the panels with rope grabs, pre-drilling was carried out in some cases. This made it possible to relax the strength of the rock and minimize wear and tear on the grabs as far as possible.