A horror scenario for every night shift: a machine breaks down and the whole operation comes to a standstill. This is what happened at the port of Erlangen. The cable crane there broke down in the middle of the night due to a defect during the unloading of a ship – and on the weekend, too. Since a standstill during the unloading of a ship is associated with many costs, a quick solution was needed.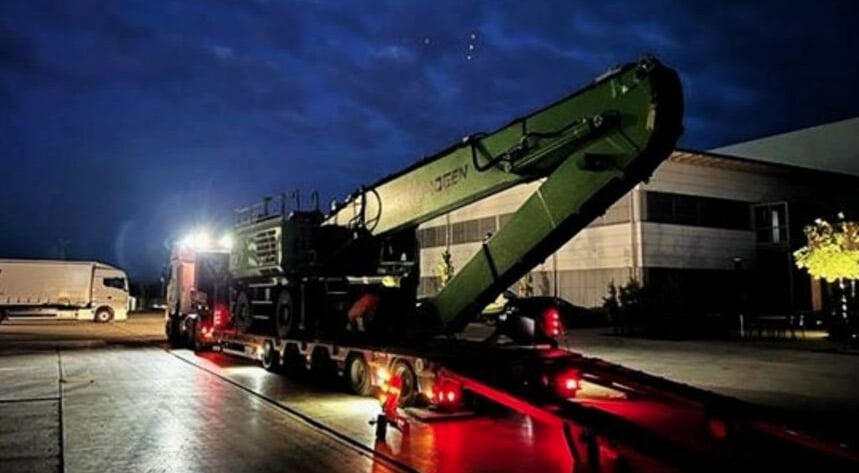 Machine ready for shipment at 2.00 A.M.
The port of Erlangen is connected to the Main-Danube Canal, an important water connection in southern Germany. Mainly bulk goods such as gravel and coal, ores and scrap are handled here. The cable crane there failed in the middle of the night due to a defect during a ship unloading operation. A quick call to SENNEBOGEN enabled a rescue in this exceptional situation.
At two o'clock in the morning, an 830 E material handler from the SENNEBOGEN sales company was made ready for dispatch and brought to the new site in Erlangen. The 830 E was equipped with a clamshell bucket and was able to take over the work of the failed machine at the beginning of the next shift. Thus, the laytime of the ship could be kept as short as possible. The SENNEBOGEN 830 E is a multifunctional machine that is available as a tracked or mobile machine and offers many advantages. The wide support square offers high stability. The massive cylinders that are installed also offer high payloads with maximum reach.
Fast reactivity of the rental and used machinery park
The ability to react quickly is one of the strengths of the SENNEBOGEN sales and rental company, which has many machines immediately available in its portfolio with its large rental and used machine park.
With the selection of available material handlers or demolition machines, telescopic cranes, telehandlers or duty cycle cranes, there is the right machine for many areas of application. Furthermore, used and rental machines have a lower investment cost and are available in a very short time
SOURCE: SENNEBOGEN