Not far from the stadium where the 2022 World Cup was disputed, a group of four "large chimneys" climbed into the sky – the Lusail Plaza Towers. This iconic set of towers, which were designed by a British architecture firm Foster + Partners, now stand as Qatar's tallest buildings. SANY Group played a significant role in the construction of the Lusail Plaza Towers, with more than 50 SANY devices operating at the construction site. This included 8 trailer pumps, 10 placing booms, 5 pump trucks, 20 mixer trucks, and 15 cranes. SANY is the only Chinese machinery brand involved in the project, abiding by the rules established by the main contractor, Hyundai Engineering and Construction, thus living up to its slogan "Quality Changes the World."
Lusail Plaza Towers is a mixed-use development comprising four skyscrapers strategically located on Lusail's commercial boulevard. Two of the towers soar 301 meters high, with the remaining two reaching 215 meters, offering a total of 220 floors of commercial, entertainment, and hotel space. Located just 400 meters from the Lusail Stadium, also a Foster + Partners design and the site of the 2022 World Cup final, the towers are a stunning sight to behold. The project commenced in 2012 and was completed in 2022 with a total investment of $550 million.
The 1.1 million square meter skyscraper cluster will serve as the headquarters for numerous Qatari enterprises, including Qatar National Bank, Qatar Central Bank, Qatar Investment Authority, and Qatar Airways, playing a critical role in the realization of Qatar's 2030 vision.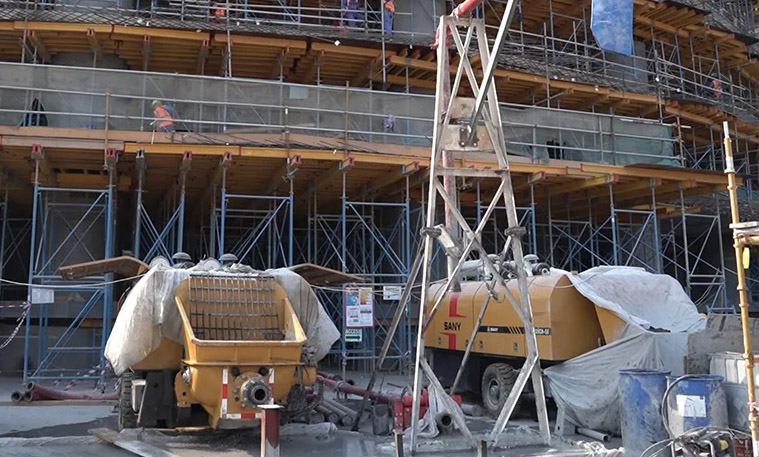 Pumping operations in high-rise projects often pose a significant challenge, but for SANY, an expert responsible for 80% of global pumping operations in buildings over 400 meters, the "mere" 301-meter Lusail Plaza Towers was a manageable task. In fact, 80% of the world's skyscrapers over 400 meters have utilized SANY's pumping services.
SANY's 9028 trailer pump and HG36 placing boom proved an exceptional team, helping major client Lafarge secure the entire project's pumping and commercial concrete subcontract with ease. Once Hyundai saw SANY's past construction cases, they didn't hesitate to opt for the SANY solution. As expected, SANY delivered, pouring 2 million cubic meters of concrete without a hitch, including 72 hours of continuous foundation casting – a testament to its well-deserved reputation as a global leader in pump technology.
SOURCE: SANY GROUP