Sustainability is now on everyone's lips, but often it remains only announcements or promises without being followed by concrete action. The waste management company Entsorgungsbetriebe der Landeshauptstadt Wiesbaden (ELW) is doing things differently. They are taking a sustainable approach to waste paper disposal and are relying on alternative drive technology.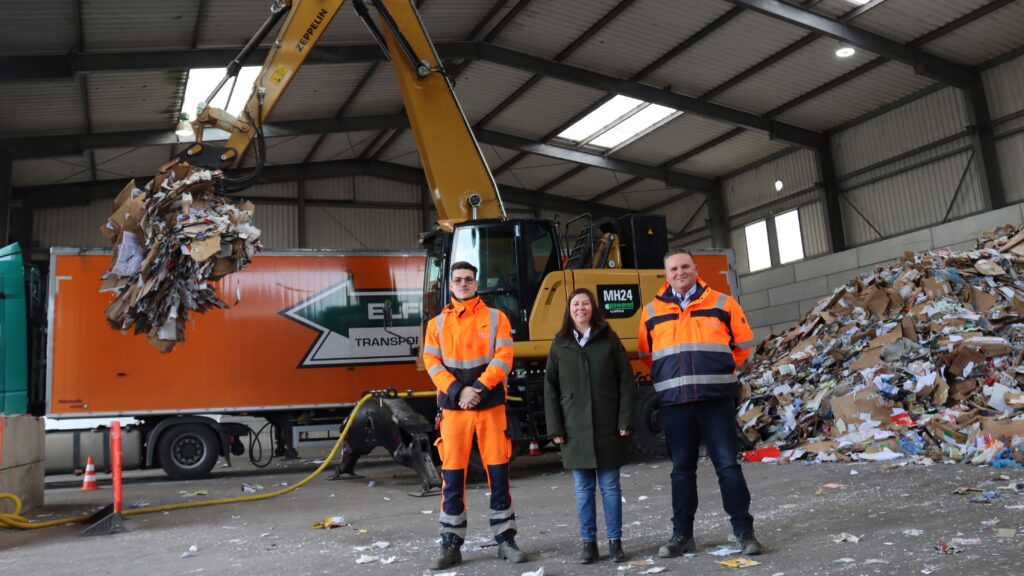 They no longer use diesel to fuel their new MH24 handling excavator with an operating weight of 24 metric tons. Instead, the necessary electricity is generated in the company's own combined heat and power plants from landfill gas and with the help of photovoltaic systems – so it comes out of the socket. This saves CO2 and, in view of the low noise emissions, work is also more pleasant for the driver when the diesel engine is no longer humming and he is using it to handle waste paper in the hall.
"If we now do without diesel and instead operate the excavator with electricity, we will significantly reduce emissions in the future"
says the responsible department head Christian Orth.
Specifically, he puts the savings at 1.2 tons of CO2 per month less. This would enable a mid-size car to travel over 5,000 kilometers on gasoline. Or a person could travel over 80,000 kilometers by train.
The construction machine has now been in operation at the Dyckerhoffbruch landfill site since December 2022, completing its eight-hour shift every day.
"It is the only Cat electric excavator in the Rhine-Main region. With it, the waste management company is making a clear statement. So far, 17 such machines have been delivered in Germany and more will follow. Everyone is always talking about cars that run on electricity, but this option is also available for construction machinery"
explains Rebekka Pfaff, Zeppelin sales representative at the Hanau branch, which was allowed to deliver the new working machine.
The 90 kW electric motor provides high power immediately without delay, as explained by driver Marvin Breidenbach, who is taken with the ergonomics of the MH24.
"When you move the grab, the machine is ready to go immediately. The excavator has power. With diesel power, it takes time for the hydraulics to respond"
said Breidenbach. The excavator operates without exhaust fumes, so there is no need for elaborate fresh air and exhaust systems in the shop. In addition, it produces no flying sparks and hardly any waste heat, making it ideal for handling highly flammable materials such as waste paper. Electrically powered construction machines are therefore an environmentally friendly alternative and also meet the necessary requirements when working in enclosed areas such as the ELW hall.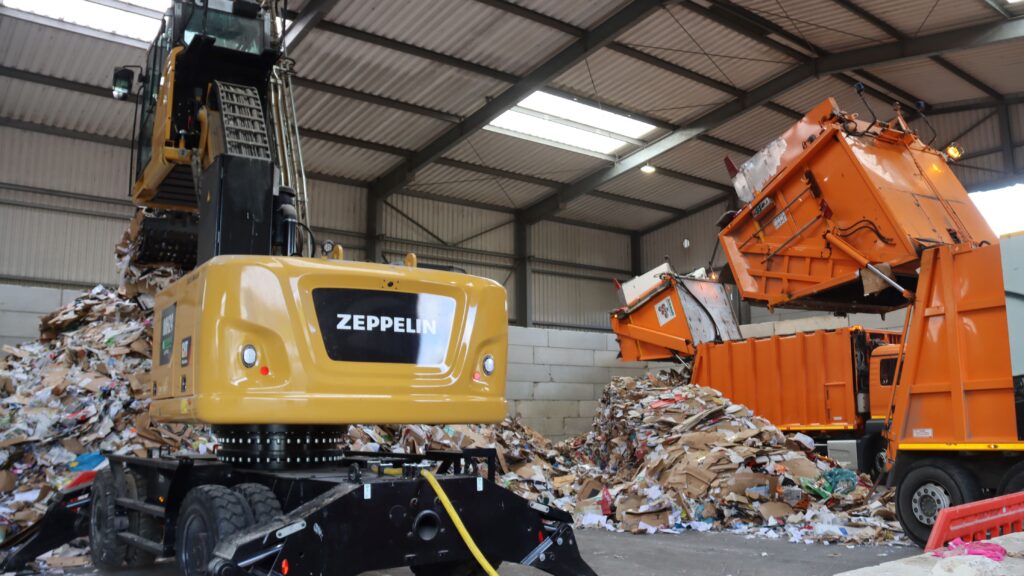 No exhaust emissions are not the only positive effects; ELW also hopes to benefit from the electric motor's lower maintenance and repair costs. After all, there is no need to change the engine oil. The same applies to AdBlue. Instead, the drivers have to pay attention to the filters, which must not be clogged. This was made clear to them during the briefing by Zeppelin's Hanau branch.
"The electronics are already a bit more sensitive. That's why we have to pay attention to cleanliness"
says Marvin Breidenbach.
Instead of a battery, the excavator hangs on a 45-meter cable as thick as an arm and receives 400-volt power and 250 amps of current for its electric motor via it. Nevertheless, the construction machine does not have a restricted radius of movement, because it stays in the hall. Orange collection vehicles drive up there and dump the waste paper collected from the city of Wiesbaden. The MH24 then has to prepare it for further disposal and recycling, such as removing wrong materials with its Cat G318 grabber. 500 to 700 tons of waste paper per week are handled by the MH24 and transported by truck to the Palm Group's paper mill in Aalen. From the elevating cab, the machine operator has a good view of the trucks' skips and can distribute the waste paper – all without emissions.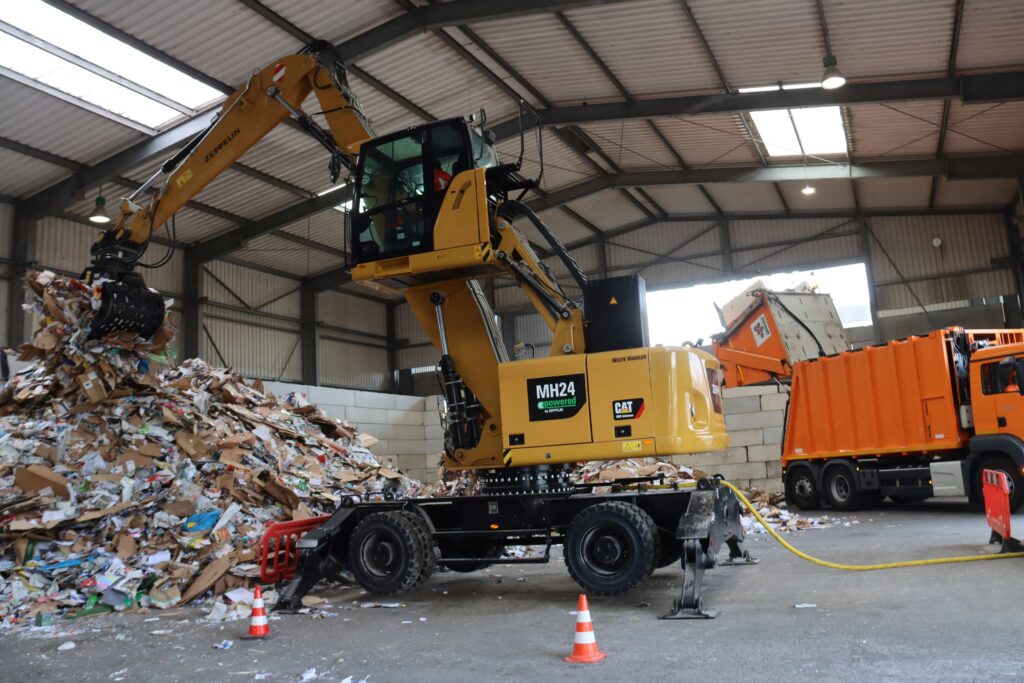 ELW already have an excavator based on a Cat MH3022 – it is used for waste placement as well as for handling a wide variety of materials. The predecessor of the MH24 was also equipped with a conventional diesel engine. Here, 400 to 450 liters of diesel were used per month. The electric excavator is estimated to consume around 7,000 kWh. The operating costs show that the calculation and assumption are correct.
"These can be reduced by up to half with the MH24 compared to the Cat MH handling excavators with conventional diesel drive, which are already trimmed for fuel efficiency, and so the disposal company can save around 1,200 euros per month, including other costs"
says Christian Orth.
Just how important this has become was shown by the diesel prices in 2022, which, according to him, almost doubled at times. Even though the price trend has currently eased again somewhat, the ELW have found a solution for relieving the burden on the environment in the future. The landfill gas, which is produced anyway, is collected in a controlled manner and converted into electricity by the company's own combined heat and power plants. Together with what is generated by photovoltaics, this amounted to nine million kilowatt hours in 2022.
"This makes us almost self-sufficient in terms of power supply, and we help Wiesbaden achieve its CO2 targets"
explains Christian Orth.
The ELW want to make a contribution to climate protection.