The Tobroco-Giant latest result of the close interaction between the manufacturer and the users of articulated loaders are two new models of the G2300 series. With this, Tobroco-Giant has achieved the goal of providing higher performance and an even more compact machine, making it easy to transport.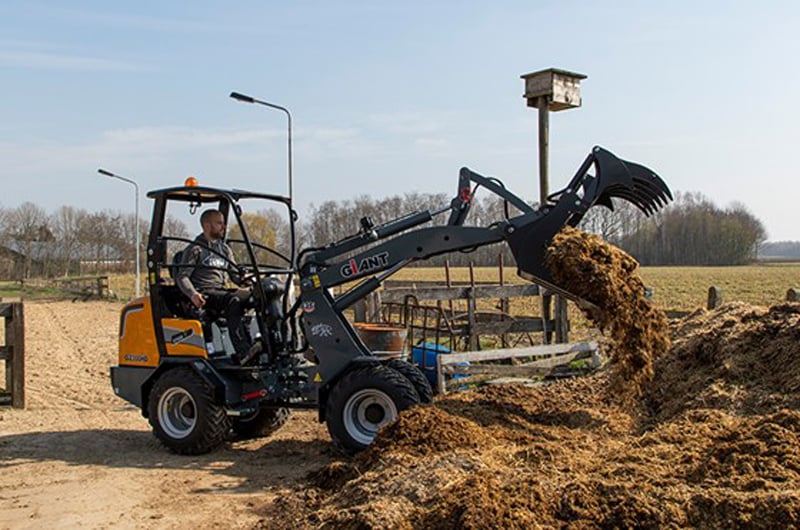 Whenever the Dutch producer for wheel loaders, telescopic loaders, and attachments is developing or optimizing a machine, it is always about finding solutions with which customers can fulfil their tasks with the help of the machines even quicker, easier, and more efficiently. Toine Brock, founder, owner, and CEO of Tobroco-Giant has started his business 25 years ago, because he hadn't been satisfied with the machinery he had to use for his work then. Even today, he is often giving new models a practical test himself. He, his employees, and retailers always have close and intense contact with their customers to learn about their needs and challenges. He explains:
"If we develop a new model or enhance an existing machine, we always do this because of a specific demand we receive from the market. We always listen very intensely when customers tell us what exactly they need for their work."
This motivation has been the reason for the development of the G2300 HD which is also available as X-TRA-version. Users have demanded a model which is located exactly between the existing types G2200 HD+ and G2500 HD.
Compactly designed
The machine is equipped with a 26 hp-Kubota engine with 1500 cm3 cubic capacity, four cylinders, and high torque and is certified to EU standard level V for clean engines. For huge driver's comfort combined with high performance the machine has got a hydrostatical four-wheel-drive and limited-slip on both axles.
Due to the 8-ton planetary axles, the machine has got a traction force of 23.000 N, which is urgently required for a lot of different tasks on building sites, with earth-moving tasks, on farms or with gardening and landscaping. Tipping loads of 1.595 kg for the G2300 HD or 2.260 kg for the X-TRA version ensure powerful and efficient loading and unloading of materials.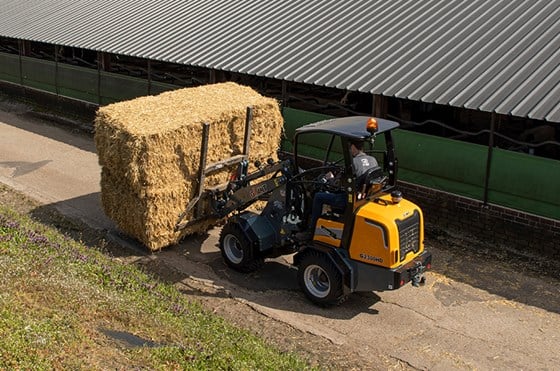 The whole power unit has got the same high performance available as the one of the G2500, the next superior model in the range. For this reason, the G2300 gets a maximum in traction, an extraordinary high pulling force while still working smoothly under all working conditions. With all these characteristics of the higher-class model, the G2300 has got the advantage of being more compactly built, because the frame has been especially adjusted for this model to make room for the bigger engine. This way the machine has got a widths of only 108 cm on standard tyres which makes it easy to get through narrow pathways. Like that it is no problem to reach sites in backyards of buildings.
Because of the operating weight of 2.300 and 2.350 kg both models can be transported very easily on a car trailer from one working site to the next, so there is a maximum of flexibility and the machine doesn't have unnecessary holding times due to complicated transport.
To reach even higher productivity there is the option to equip the machine with the patent-registered Stabilo-system. This option creates extra safety and comfort because all unevenness of the ground is settled without any loss in performance.
Safety and comfort
All machines are equipped with a safety roof as a standard. Optionally, this can be changed into a foldable safety roof or a complete cabin. All roofs and cabins have been intensively tested by independent controllers and are certified on the international ROPS/FOPS-standard. The curved windscreen and the narrow stacks lead to an excellent 360° view. So the driver is always able to view the whole working area and can work safely and precisely at any time.
A sprung and adjustable comfortable seat helps to create a pleasant working condition as well as the spacious and comfortable working environment with control instruments that are easy to use, the smoothly operating joystick, and the tilting and adjustable steering column – this comfort equipment prevents exhaustion and leads to comfortable and efficient work during long hours.

Attachments for every task
Tobroco-Giant offers more than 200 different attachments so that the G2300 models can be used all year round. Whether it concerns buckets, sweepers, or snowblades, the machines always work in an optimal way which ensures higher effectivity and profitability. The attachments have been developed according to the characteristics of the machines and therefore provide the best collaboration between machine and attachment and always ensure high performance.