(Sunward will be present at bauma 2022 at stand is FN 618/10)
Sunward Europe is accelerating its development in Europe and taking advantage of Bauma 2022, from October 24 to 30,  to present a good overview of its know-how with a wide range of machines including no less than 5 new ones.
Sunward Europe
Since the creation of the European subsidiary in 2015, Sunward Europe has experienced very rapid growth in sales and market share. Sunward owes this success primarily to the quality of its machines, designed and produced specifically for the European market.
All the machines meet the latest standards in force and are rich in standard equipment, all at the fairest price for the end customer.
But such success would not be possible without an excellent network of more than 130 dealers now covering all of Europe.
And Sunward intends to continue its European development!
Also, to support this growth, Sunward Europe has invested in new premises in Tessenderlo, Belgium. On more than 25,000 sqm, the company has a large stock of machines and spare parts, a demonstration area, a technical training center and a vast workshop allowing the customization of machines to meet the needs of each market in Europe.
From its headquarters in Tessenderlo, Sunward provides technical and logistical support for its dealer network, with in particular an availability of more than 95% of spare parts.
Finally, another important aspect of Sunward's strategy for Europe is the extension of its offer with the launch of new products for the European market which will strengthen the "Equipment Construction" Business Unit already in place since 2015.
2 new Business Units have been created on the Tessenderlo site:
– "Lifting equipment", with a new range of scissor lifts and compact telescopic cranes
– "Foundation equipment", with a range of drilling rigs.
With these 3 pillars – Construction + Lifting + Foundation equipment – Sunward Europe is equipped to develop in 3 strategic business sectors in Europe.
Sunward on Bauma 2022
This new edition of Bauma, the largest European exhibition dedicated to construction equipment, offers visitors the opportunity to discover the latest Sunward developments for the European market on nearly 1,000 m2 of exhibition space (stand FN 618 /10).
Thus, Sunward presents a wide range of 12 excavators, including 2 electric excavators of 2 and 23 tons, but also the brand new Cummins motorized excavators of 22 tons and 15-17 tons with short radius and 2-piece boom.
To complete its "Construction" range, Sunward also presents a series of compact wheeled and tracked loaders.
Sunward is also exhibiting a wide range of scissor lifts, a compact telescopic crane, as well as a foundation drilling rig weighing more than 49 tons.
BAUMA is also an opportunity for visitors to discover the new range of Sunward attachments, in particular: hydraulic quick couplers, augers, sorting grapples, etc.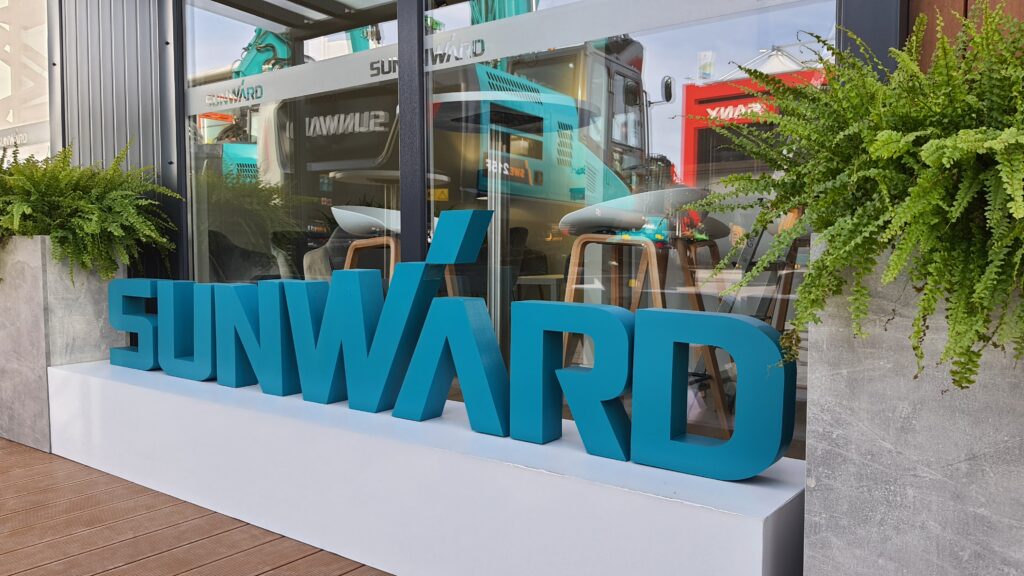 Innovation leads to value
With its strong engineering DNA (now more than 400 engineers working in R&D), the Sunward group has pursued a strategy of innovation and continuous improvement of its machines since its creation.
Sunward was one of the pioneers in the field of electric machines, with the development of an electric excavator in the early 2000s. This precocity and this capacity for innovation, Sunward owes them to its founder, Professor He Qinghua. A visionary thinker based on a solid background as an academic and researcher, the professor is driven by a constant desire for personal development and progress. Professor He has filed 252 patents and his entrepreneurial spirit led him to found Sunward in 1999.
Thus, at the Bauma, Sunward is presenting 2 new electric excavators: the SWE 20FED, a 2t mini excavator, and the SWE 240FED, a 23t midi excavator, fully electric, both designed on the basis of their combustion engine powered equivalents, the SWE 20F and the SWE 215F.
For the occasion, the 2 Sunward electric excavators have taken on an original design, in order to mark their respect for the environment, both in terms of CO2 emissions and extremely reduced noise pollution. This equipment is mainly suitable for urban areas with high requirements in terms of exhaust gas emissions and noise, but also high and cold plateaus, with large temperature differences and insufficient oxygen supply, and finally construction sites in relatively confined spaces underground and tunnels.
First, the SWE 20FED. This 2 ton excavator, available in cab or canopy, will make a mark on the new market of electric excavators with its exceptional value for money.
Featuring a lithium-ion battery and a three-phase asynchronous motor, it has an autonomy of more than 6 hours in full working load, it can benefit from a fast charge in less than 2 hours or from a full charge in 7 hours.
The SWE 20FED remains a very compact machine, with a tail swing radius of just 1110mm, allowing it to work in the tightest of environments.
Then, the second model making an event at BAUMA 2022: the SWE 240FED.
In addition to respecting the environment, the SWE 240FED is also a "smart" excavator since it can be equipped with Sunward's remote control technology, which has the characteristics of long-distance control, ensuring safety and operator efficiency.
After the remote intelligent module is installed, it is more suitable for operations in places with harsh working conditions and significant threats to human health and life, such as demolition in hazardous and explosive environments, the debris removal and salvage work, etc.
Tests have shown that the smart electric excavator developed by Sunward have faster response, greater efficiency and greater performance than combustion engine ones. Thus, the SWE 240FED smart electric excavator can work continuously for more than 6 hours after fully charged, and it only takes 1.5 hours from 5% to 100% charged by two charging guns.
The SWE 240FED is powered by 400 kW/h Lithium-ion batteries and a 120 kW three-phase asynchronous motor.
The SWE 240FED is also equipped with all the equipment providing safety and comfort: cameras, all-new generation touch screen, Sunward Smart Fleet remote troubleshooting system and standard GPS, etc.
Sunward expands its range of excavators
In addition to the 2 electric excavators, Sunward presents on its stand a large part of its range of excavators, which, for Europe, extends from the micro excavator of 1 ton to the hydraulic excavator of 36 tons.
Among the 12 excavators exhibited on the stand, among other novelties, visitors have the pleasure of discovering in particular the SWE 155UF-2PB, a 16 to 17 ton excavator with a short radius and 2-piece boom.
This new model, in a strategic segment of midi excavators, is distinguished by its compactness (tail swing radius of 1490 mm), its exceptional stability, and high performance in its category (90 kW / 2200 rpm Cummins engine, hydraulic high-performance Hengli).
It is available in monobloc boom or 2-piece boom, and can be equipped with 3 different arms, depending on the user's needs.
Beyond a modern design and high-end performance, comfort for the operator has been thought out: large interior space, new next-generation touch screen, comfort seat, Sunward Smart Fleet remote troubleshooting system and GPS as standard …
Still in the midi excavator category, Sunward is also presenting a completely new version of its 22 ton excavator: the SWE 215F will not fail to attract attention with its new modern design, both outside and in the cabin.
The SWE 215F, new generation Stage V, replaces the previous model which has already proven itself in Europe with its exceptional performance (Cummins engine, 129 kW / 2,200 rpm, Hengli high performance hydraulics) and presents major advances in terms of comfort and productivity for the operator: new touch screen, comfort seat, cameras, Sunward Smart Fleet remote troubleshooting system and standard GPS, etc.
In terms of attachments, Sunward officially launches a new range of hydraulic hammers, but also hydraulic quick couplers, augers, sorting clamps…
All these accessories are designed and manufactured in-house, within the Changsha factory, for perfect control of quality and logistics.
Sunward, much more than excavators
If Sunward has made a reputation for its quality excavators, the brand is constantly growing its offer, and by visiting the Sunward stand at the Bauma, some new products do not go unnoticed. This is for example the case of an impressive rotary drilling rig of almost 50 tons which dominates the stand from the top of its 18 meters.
With the SWDM 160SA present at Bauma, Sunward inaugurates the launch of a new Business Unit in Europe. However, foundation equipment is nothing new for Sunward, since it is in this field that the Sunward company was created 22 years ago. Indeed, Sunward started with a revolutionary innovation, the Hydraulic Vibratory Pile Driver, based on a patent by Professor He Quinghua. Then, in 2000, Sunward created a tunnel drilling robot, filling a gap in this field in China.
Thanks to its permanent technological innovations, Sunward has developed a complete range of drilling rigs and the brand is renowned in the sector for their performance, reliability and stability at a low operating cost. Today, Sunward offers a wide range of drill rigs for Europe with 8 models, all in Stage V.
Right next to the impressive drilling rig, Sunward is exhibiting the SWTC 5D, a compact telescopic crawler crane, built on the same base as the 9-ton excavator with short radius, the SWE 90UF. It combines all the advantages of Sunward excavators which are compact, all-terrain and of proven reliability.
A few meters further on are the brand new compact wheel and track loaders. The new generation of Sunward loaders has a compact structure, offering a lot of flexibility, even in tight urban environments. Whatever the soil type, our powerful Sunward loaders will deliver power. Visitors can also see the particular attention paid to comfort, for higher productivity.
Finally, Sunward is also exhibiting part of its range of scissor lifts on its stand. Launched on the European market at the end of 2020, Sunward currently offers a full range of scissor lifts with 3 ranges: the HD range (with hydraulic motor) and the DC range (with electric motor) are both electric, and the RT range (for rough terrain) is fitted with a diesel engine. On the stand, Sunward offers the full range of DC series scissor lifts, from 6 to 14 m.
Focus: Sunward rotary drilling rig SWDM160SA
Sunward, one of the leaders on its domestic market of foundation equipment, enters the market in Europe with a new generation of Stage V rotary drilling rigs.
The new created Business Unit « Foundation equipment » will ensure from the Sunward Europe headquarters the sales and all technical support, including technical and operation trainings, spare parts logistics, technical documentations…
SUNWARD exhibits on the Bauma the model SWDM160SA, dedicated to foundations works.
With a weight of 45 tons, the SWDM160SA can be transported between 2 work sites without having to be dismantled, which ensures high productivity to the customers.
The machine is delivered as a standard with Kelly bar and is foreseen for multifunction and flexible operations.
The SWDM160SA is fitted with a 186 kW Cummins engine (stage V) and can reach 168 KN torque.
With its main winch reaching 80 m / minutes, a power head rotary speed of 42 rpm, the machine is designed for high speed and high efficiency.
For more than 20 years, Sunward drilling rigs are known for their reliability. Especially thanks to a special internal design of critical components: electric and hydraulic system, intelligent controlling system with CAN-BUS, user-friendly monitor for the operator…