As part of its continuous advance towards reaching a carbon neutral future, Kubota's latest micro hybrid engines will be on the company's stand at the Plantworx trade show. The D1105 P2 and V3307-CR-T micro hybrids are among the key players in Kubota's drive to help to decarbonise work sites and they form part of a larger array of leading-edge engines available from the company.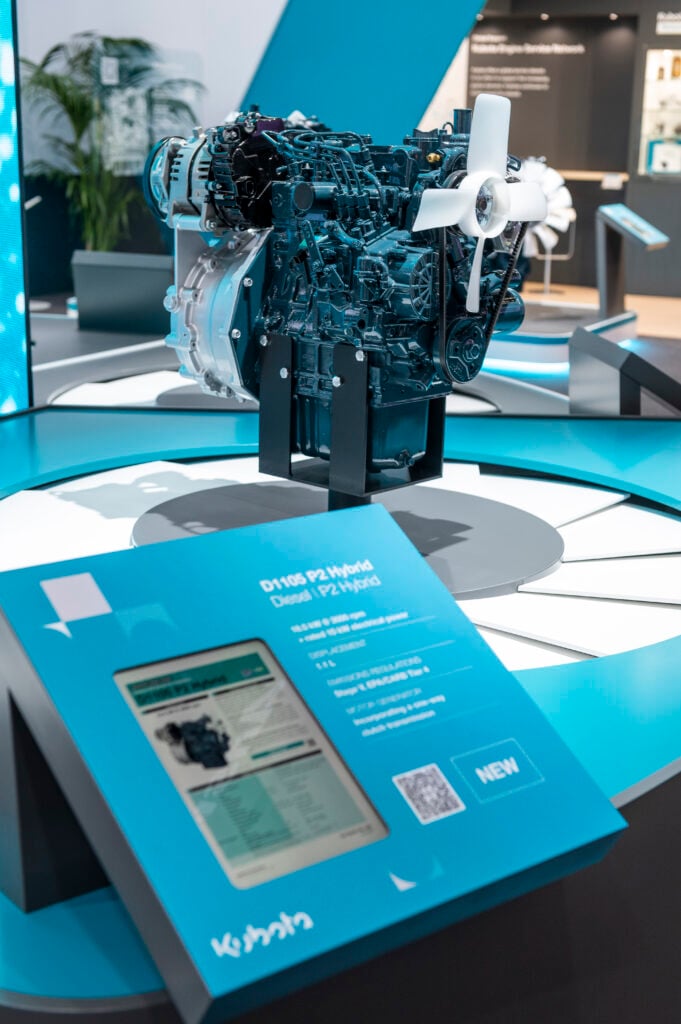 Kubota micro hybrid technology is a system installed with a 48-volt motor generator using electric power only when intermittent overloads need to be handled. A motor-assist function is used to deliver an extra 10 kW of electrical boost power when needed for occasional sudden loads enabling operators to select an engine with output to match the load range, together with electric power to compensate for infrequent intermittent overloads.
Kubota micro hybrid technology is particularly suitable for applications with occasional overloads such as non-highway machines used on work sites, forklifts, sweepers, road rollers, excavators, telehandlers, wheel loaders, generators and aerial lifts. It is also fit for purpose for use in indoor applications.
"Our micro hybrid technology underlines Kubota's pledge to make a major contribution to the goal of achieving a carbon neutral future.

"At the same time our Micro Hybrids offer machine operators outstanding benefits including reduced maintenance demands, ease of installation, enhanced fuel consumption and machine design flexibility,"
said Daniel Grant, Manager, Marketing Intelligence for Kubota Business Unit Engines Europe.
The AC synchronous motor generator, which does not require maintenance work, is encased in the flywheel housing keeping engine size to a minimum and all necessary components, such as motors and 48 V lithium-ion batteries, are Kubota-supplied meaning customer development resources can be minimised. A belt drive mechanism is not required thus increasing robustness and ease of maintenance.
The three-cylinder, naturally aspirated, water cooled D1105 P2 Hybrid is rated at 18.5 kW (24.8 HP) at 3000 rpm and has a clutch positioned between the engine and the motor drive.It can be switched between engine drive, motor drive and engine + motor drive while in operation depending on the application. For example, in noise or emission-sensitive environments the engine can be stopped and switched to the electric motor. The engine is compact even with a one-way clutch which is incorporated in the supplied 20 cm wide gearbox which saves space compared to traditional combinations of engines and separately bought clutches thus, also, providing more flexibility for machine designers. A hydraulic pump can be mounted to the gearbox to take off power.
The 1.123 L displacement D1105 P2 has a bore and stroke of 78 x 78.4 mm, meets EPA/CARB Tier 4 (NRTC/NTE test mode) and EU Stage V emissions regulations and has a maximum torque of 71.5 Nm at 2200 rpm. It has an indirect injection combustion system and an in-line pump fuel system. Production is scheduled for 2025.
The 3.331 L displacement, four-cylinder, vertical, water-cooled, four cycle Kubota V3307-CR-T micro hybrid has a rated power of 55.4 kW at 2600 rpm. Bore and stroke is 94 x 120 mm and as the hybrid is the same size as common rail engines it is easy to install and customers do not need to change the design of their products. The motor's quick response and high torque of 265 Nm at 1500 rpm also improves work efficiency and the engine fits compactly in the mounting space as there is no after-treatment device SCR needed for diesel engines with an output of 56 kW or more. The elimination of the need for SCR reduces maintenance work and running costs. The engine meets EPA/CARB Tier 4 and EU Stage V emissions regulations. However, the two micro hybrids are only part of an extensive product portfolio of industry-leading engines which have been introduced by Kubota.
Kubota has also unveiled the 09 Series V5009 engine which was the company's first-ever diesel engine above 200 HP. Designed to meet the higher power demands and wide range of needs in construction and industrial machines, the V5009 delivers up to 157.3 kw (210.9 horsepower) at 2200 rpm and meets the emissions standards of EPA Tier 4 and EU Stage V.
Also introduced as additions to the Kubota engine portfolio are the D902-K and D1105-K engines which feature Kubota's highly advanced and ground-breaking common rail system developed exclusively for small engines, TVCR. Characteristics of the new three-cylinder, vertical, water-cooled, four cycle diesel engines include smokeless operation, less carbon emissions due to low fuel consumption, high performance at high altitude and stable support for machine operations. They meet regional emissions standards EPA Tier 4, Stage V and China IV.
Another important development by Kubota features the company's advances with hydrogen engine technology – an attractive carbon-free alternative fuel solution. The Kubota 3.8 L, 85 kW four-cylinder industrial off-highway hydrogen engine eliminates carbon dioxide emissions by only using hydrogen as a fuel. Kubota's hydrogen engine is based on the spark-ignited type WG3800 engine. By keeping the size or footprint of the existing engine, Kubota has maintained the variety of accessory selections and compatibility with customer applications. The Kubota hydrogen engine is an attractive choice within the generator set sector and is attracting interest from manufacturers.
In another breakthrough, the company recently revealed that all Kubota diesel engines, including Stage V models, can use paraffin-based fuels that comply with European standard EN 15940. The newly approved fuels include Gas to Liquid (GTL) and Hydrotreated Vegetable Oil (HVO). The use of HVO has also recently been approved for Kubota diesel engines in the United States.