Felling Trailers. will debut design modifications to the X-Force hydraulic detachable gooseneck at CONEXPO-CON/AGG 2023. Felling has long been known as an innovative solutions provider in the transport industry – employing its engineering team to continually enhance and develop new product designs for increased production efficiencies, operator safety, and ease of use. The X-Force product line offers over a dozen models with load capacities ranging from 35 to 60 tons with an expansive selection of available options to ensure the trailer is built to the user's spec.
The redesign's driving factors were enhancing operator usability while refining the design and reducing production time and materials. More often than not, an operator must offload/load equipment on less-than-ideal terrain that is soft or uneven. Considering this scenario, the gooseneck stirrups were designed to provide an additional 1-3/4″ ground clearance, making the hookup/disconnect process easier. Auto-ratcheting load blocks have also been factored into the gooseneck design. As the deck is raised into position, setting the trailer's ride height, the load blocks auto-ratchet into position.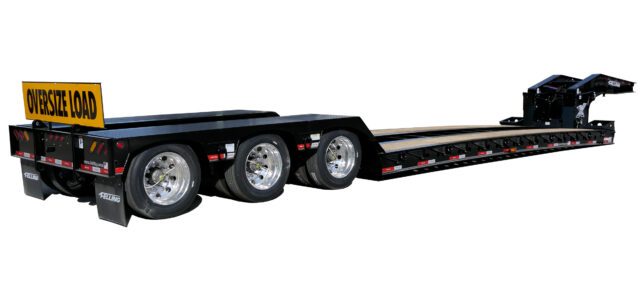 An interlocking connection between the load block and the secondary lock mechanism synchronizes the action of the two – eliminating the independent lock handle, reducing, and simplifying the operation process. Lastly, the trough of the gooseneck was reconfigured for optimal performance of the lock pin, allowing dirt and debris to fall away more efficiently, substantially reducing buildup over time.
Felling Trailers is anticipating reaching full production in mid-late 2023. Solid and reliable, Felling's X-Force HDG series continues to offer a broad selection of options and features to ensure the trailer is built to the spec that owners/operators need for their applications.